Las Vegas in luxury for less – The ultimate guide
Las Vegas is a lot like marmite – you either love it or hate it. I am in the love it camp and go at least once a year. Amazingly I have managed to go 4 times this year although in my defence once was by accident!
What happens in Vegas….
If you thought you knew what Vegas was all about, you may have to change your opinion if you haven't been there or not visited recently. I remember years ago watching a TV series called Las Vegas and being very surprised when I got to Vegas and the people very definitely did not look like the glamorous ones on the TV program! Now it would be a very different story. Vegas used to be a much more downmarket place a few years ago, full of stag nights, middle aged people chain-smoking whilst stuffing coins into the slot machines and $9.99 buffets. In the last few years Vegas has changed and the clientele is now much younger, affluent and a lot more stylish. Luxury hotels, Michelin starred dining, shops and ultra clubs attracting residencies from some of the world's top DJs have sprung up.
My guide will show the best places to eat, stay and shop and how to save money doing it.
Getting there
If you are travelling from the UK the 2 main airline choices if you want to go direct are British Airways and Virgin Atlantic.
British Airways
The advantage of British Airways is that they fly from Heathrow rather than Gatwick. If you fly British Airways they are currently using a B747 from Heathrow wich although old, is still my favourite for Club World with the upper deck seats.
There is no dedicated BA lounge at LAS, however the sub-contracted lounge is the Club at LAS. It's nothing special but still a lot better than most lounges. There is a small selection of sandwiches, salads, snacks and crudities and a staffed bar with free drinks. They make a good margarita if you are so inclined. If you have a Platinum Amex card there is a Centurion lounge which has better food and wine plus a small selection of cocktails. However if you want to visit this lounge allow plenty of time as it i n D concourse which you will have to get the train to.
Using Avios or Flying Club miles
If you are travelling on miles you may struggle to get a redemption to Las Vegas. I usually end up flying via San Francisco has that normally has the best availability and I have had no issues getting through immigration and security there. There are plenty of flights to Las Vegas from there and it takes about 1hour 20mins. Los Angeles and Phoenix are also close by for connectoons.Oakland could be worth considering now as a new route it may have more availability for Avios. You can fly from Oakland to Las Vegas using my favourite low cost airline SouthWest. BA and the american legacy carriers could take a leaf out of their book. As well as getting 2 free checked bags, a free soft drink and snack, the staff are friendly and the whole experience relatively pain free. They also fly to Vegas from SFO, LAX and PHX amongst others.
Doing Vegas in style for less
Best times to go for cheaper prices
The most crucial thing about planning your trip to Las Vegas is timing. Hotel prices vary wildly according to occupancy and this is not just seasonal. Generally prices for luxury hotels are much cheaper compared with other major cities and tourist destinations and rooms are large. The things to consider before you book ANYTHING are:
Public holiday weekends
The first thing to do is avoid any US public holidays and Vegas is normally heaving. I stupidly once managed to book to go on Memorial weekend and I have never seen so many people in my life. The pool was like human soup it had so many people in! Here is a good website for checking dates.
Conventions
Secondly you need to check if there are any major conventions in town. These can increase the hotel prices by 2 or 3 time when a major convention is taking place. Some of the largest ones involve more than 150,000 people like CES in January. You can find out what conventions are on and the expected number of attendees on this website.
Day of the week
Thirdly if you can, don't pick a weekend. If you are only in Las Vegas for a few days it is cheaper to come during the week opposed to the weekend. You can usually get a cheaper rate Sunday to Thursday than from Friday to Sunday.
Best months to go
Finally there are a few periods of the year that are always cheaper. December is an inexpensive time. The exceptions would be during the National Finals Rodeo (usually the first week) and around New Year's Eve. The downside to coming at this time of year is that contrary to popular belief it will most likely be cold. Temperatures can go down as low as 8°c during the day and 1°c at night and many of the pools close over the winter. The average daytime temperature s 14°c.
At the opposite end of the spectrum is late July and August. These can also offer attractive deals but it will be very, very hot. I was in Vegas at the end of July this year and the temperature peaked at 46°c with temperatures still well into the 30s at night! If you can stand the heat this is one of the quietest time I have seen in Vegas. The best times to visit for the weather are March-May and October-November when it is pool weather but not scorching hot.
Other ways for doing Vegas in luxury for less
Travelzoo and Groupon
These normally have some good offers on activities and shows in Vegas. I have used Travelzoo for lots of show tickets and the happy hour car on the High Roller Wheel. This is where you get a free bar inside the bar complete with bartender who will make you cocktails as you enjoy the view! Groupon sometimes has offers on activities such as the Scoot Red Rock canyon tour.
MyVegas
MyVegas is an app for Facebook, iPhone, and Android where you play blackjack or the slot machines with virtual cash and earn real rewards. If you want to get free shows, buffets and even hotel stays within MGM group hotels you will have to put some time and patience in. I often use it to get the odd freebie such as unlimited free wine and cocktails at the Aria Buffet. Whatever you do, do not spend any money to get more virtual cash. If you don't play for a few days they will normally send you some in addition to your daily boost. This seems to only happen if you play through Facebook. The more often you play the more you unlock such as autoplay where you can leave your computer spinning for you rather than having to keep hitting spin. Once you have earned enough for a free reward you claim the code and then redeem it in Vegas. Make sure you read all the rules carefully before purchasing a reward.
Tix4Tonight
This company sells tickets to all the man show for half price on the day of the performance. There is no guarantee what they will have each day but they normally have a good selection except at peak times. They also have discounts for restaurants and attractions as well. Be prepared to queue! There are 10 booths along the strip. More details can be found here.
Vegas.com
This site regularly has discounts on hotels, attractions and shows. They also do discount codes now and again. You can find the website here.
Choosing your hotel
There are so many hotels in Las Vegas it is difficult to know where to start. The first thing you need to do is decide on a few basics:
Location
This should be high up on your list of requirements. Although everything looks close together the strip is 4 miles long and its nearly 2.5 miles just from Mandalay Bay to Wynn. Getting around Vegas is time consuming even if you have your own car. Traffic is usually heavy along the Strip and there are numerous traffic lights to get through. Often walking is just as quick. If you plan to visit a lot of different locations on the strip then somewhere in the centre would be ideal such as Bellagio.
Do you want to stay in a casino hotel?
These are the large hotels that most people of think of when they come to Vegas such as The Venetian, Wynn and the Bellagio. They are a good option if it is your first time to Vegas and you want to be in the thick of it for the full Vegas experience. The disadvantage is that you will have to traipse backwards and forward through a large smoky casino to get to your room. Given the size of the hotels it can often take up to 15 minutes to walk from your room until you get onto the strip. If you chose one of the more popular theme hotels they will be busy in nearly all the areas of the hotel as people will visit to just look at the hotel.
Wynn
This is one of the most luxurious casino hotels and opened in 2005. The resort has earned 5 star ratings as well as one Michelin star for its restaurant Wing Lei. Wynn Las Vegas and its sister property Encore Las Vegas collectively hold more Forbes five-star awards than any other resort and casino in the world. The resort is named to the Condé Nast Traveller Gold List as one of the "Top Hotels in the World".
Rooms offer floor-to-ceiling windows and pillow-top mattresses. Amenities include 2 spas, gyms, pools and hot tubs, as well as an 18-hole golf course and numerous restaurants and bars.
The location is OK but it is at the end of the main part of the strip so it would be a very long walk to get to the Mandalay of the strip. It is ideally placed for the Fashion Show Mall across street and also connected by walkway to the Palazzo hotel. If you decide on Wynn make sure you ask for a room away from the nightclub during the summer months as there are complaints about noise from the outdoor club on Trip Advisor. The Wynn is not part of either of the 2 main casino groups.
Bellagio
Opened in 1998, this high-end hotel is housed in an Italian-inspired, 36-story tower fronted by a man-made 8-acre lake featuring dancing fountains. The inspiration for the hotel came from the Italian town of Bellagio on Lake Como. Rooms are elegantly furnished in a modern style and feature custom artwork and marble bathrooms with soaking baths. Suites and villas come with private elevator access, living rooms and butler service. Amenities include several outdoor pools and a botanical conservatory, as well as a fine art gallery, a spa and multiple dining options.
Location wise this is in an ideal spot about half way along the strip. This makes it easy walking distance to most of the strip. There is a free tram that runs between Bellagio and Monte Carlo which also covers City Centre and Aria. Bellagio is a very popular hotel for tourists to visit so be prepared for large numbers of people in the hotel. Bellagio is part of MGM Resorts.
Palazzo*
The Palazzo is situated between the Wynn and the Venetian, and is an all-suite resort and casino.
The large rooms feature Italian-inspired decor and range from modern rooms with flat-screen TVs and soaking baths There is a huge Canyon Ranch spa, an outdoor pool, and several restaurants and bars. It is a good option if you fancy the Ventian but are worried about how busy it will be.
Cosmopolitan*
I stayed here in March 2016 when I got a bargain second night in a Wraparound Terrace suite for just $5. The hotel is across the Strip from Planet Hollywood, and has rooms with views of the adjacent Bellagio fountains. Despite the young vibe of the hotel the clientele spanned every age group.
The very modern rooms feature floor-to-ceiling windows, flat-screen TVs, Wi-Fi access and marble-floored bathrooms. My suite has a separte living room with dining area and kitchen, a bedroom and a large bathroom woth an enormous bath and 2 sinks.

The Chandelier bar is one of the most iconic in Vegas being set inside a 3-story crystal chandelier. Other amenities include an outdoor concert venue, a serene spa and hammam, 3 pools,
Do you prefer peace and quiet but still want to access all the strip easily?
In this case you can choose one of the non-casino hotels that is on or very close to the strip. The advantage is that they are much quieter and it is usually quicker to get to the strip.
The 2 I will discuss are my 2 personal favourite hotels in Las Vegas where I nearly alway stay.
Mandarin Oriental
This is ideally situated a few feet from the strip between the Monte Carlo and City Centre. The location of the Mandarin Oriental is perfect for accessing the majority of the strip. It is a few minutes walk to Aria as well where you can also access the tram to Bellagio.
The rooms at the mandarin oriental are some of the best on the strip although not necessarily the largest. They have wonderful standalone soaking bath tubs and feature a very innovative valet close> this allows things such as newspapers cleaning and room service items to be placed in a cupboard for delivery or collection which is accessible from both inside and outside the room, maintaining your privacy. the rooms are decorated in a modern oriental style and equipped with the latest technology. Lights, curtains and temperature are all controlled from a tablet display by the bed or via the TV. A tea pot, kettle and selection of teas are available in the room.
The hotel has a wonderful spa which although not the largest or best equipped has the most amazing service and tranquil ambiance. When you arrive they swap your shoes for sandals magically bringing you the right size and preparing a locker with the correct size robe all without asking a question.
There are 3 dining options, the fine dining Twist by Pierre Gagnaire, Mozen Bistro and seasonally the pool cafe which serves lots of healthy options from breakfast onwards. The cocktail bar is a great place for a sophisticated drink with a great view of the strip.
For me the pool is the only area that lets it down. The area is fairly small with 2 very narrow pools and it is often very windy. The service has improved recently but is still nowhere near the level of the Four Seasons pool staff.
Four Seasons Hotel*
This is the hotel I would recommend if you enjoy a lot of pool time. It is situated at the far end of the strip next door to the Mandalay Bay. The location is the only drawback with this hotel. It is however connected to the Mandalay Bay where you can get a tram to Excalibur for free.
The Pool area is one of the nicest on the strip and rarely gets crowded. Pool staff will set up your chair, regularly bring you jugs of iced water and frozen treats as well as even misting you with Evian when it is hot! The other advantage is that you also have access to the Mandalay pools complete with beach, wave pool and lazy river.
The Rooms were recently redecorated and now have a modern resort feel. A keurig coffee maker is in the room unlike most hotels in Vegas.The bathrooms have a separate bath and shower but I do feel that the bath is on the small side compared with other Vegas hotels.
The spa at the hotel is highly rated for treatment but it is very lacking in facilities so i would normally go to a different one. There is a good Spa at the Delano Hotel which is also attached to Mandalay Bay.
Dining has 2 main options plus a plethora of options within Mandalay Bay. Charlie Palmer Steakhouse is the fine dining option and Veranda is the all day restaurant with an Italian style menu. It is a great place to start your day having breakfast outside on the terrace overlooking the pool.
Do you want to self cater or have a larger space?
There are several self catering options on or near the strip.
Vdara*
This is a very modern hotel which is has a walkway to Bellagio and is next to Aria. It is quite a long walk to get to the strip but it is usually very affordable and the rooms are modern and large.
One thing I didn't like it that you have no coffee maker, not even a kettle and they will charge you if you ask for a coffee maker. you would be better buying a cheap travel kettle to take with you. There is plenty of kitchen equipment but no plates, cutlery or post and pans. these can be requested. Be very specific as when I asked for plates and cutlery all I got was one of each!
The pool at Vdara is not particularly attractive as it is in effect a rooftop pool so if you wanted a great pool area I would go for the Signature.
Signature at MGM*
These 3 apartment hotels often offer great value and you can often get them even cheaper by renting privately.. They come in several sizes from a studio suite to a 2 bedroom suite. Many have good views of the strip and all come with a balcony. Unless you have rented privately you will have to request plates, cooking equipment etc but you do get a good selection.Th bathrooms are huge with TVs, huge jacuzzi bath and 2 sinks.
It is quite a walk to the strip through either the MGM by moving walkway or via the street which brings you out by Planet Hollywood.
There are 3 pools and jacuzzis which are all good although there is often no shade unless you want to rent an umbrella.
*These are the hotels I have personally stayed in that I would recommend depending on your requirements.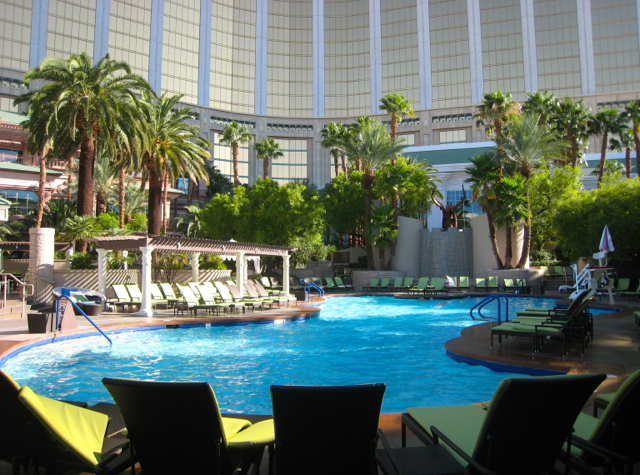 Recommended restaurants
I will be adding more detail to these in the future
Brunch:
Border Grill
Country Club Brunch at Wynn
Veranda at the Four Seasons
Sterling brunch at Ballys
Wynn brunch buffet
Fine dining:
Alize at the Palms
Lakeside at Wynn
Charlie Palmer at The Four Seasons
Recommended shows
Michael Jackson ONE by Cirque du Soleil Mandalay Bay
La Reve at Wynn
The Beatles LOVE by Cirque du Soleil
Boyz II Men
Absinthe at Caesars – only for broad minded adults!
'50 shades' the parody
Defending the Caveman comedy
Recommended activities
Hotel must sees:
Conservatory at the Bellagio
Venetian St Marks Square and canals
New York New York
Paris
Mirage volcano and entrance to casino
Activities:
A shooting lesson at Strip Gun club
Scoot cars around Red Rock
High roller big wheel Happy Hour car
Titanic exhibit at Luxor
Stratosphere viewing deck
For more ideas of things to do have a read of Cultural Curiosity's fun things to do in Vegas for couples
Getting around
I recommend walking or using Uber. I have had a lot of issues with taxi drivers 'long-hauling' me in Vegas. That is when they take you a much longer route to get more money out of you. I have only ever had that problem once with Uber and find them a lot cheaper and much easier not needing cash. From the airport you may like to treat yourself to a limo. President limos do an airport special for $99 round trip which is good if there are a few of you. Bell Trans also do a shared limo transfer which gets mixed reviews but is a low cost way to experience a limo plus most of the time you won't actually have to share it. There are also 2 buses that go up and down the strip – the Deuce and the SDX. You can buy a pass for these. They are generally crowded and pretty slow along the strip but useful if you want to give your feet a rest for a short distance.
The monorail was a bit of a lost opportunity since it doesn't go the whole length of the strip and is right at the back of the strip. However if you are staying in one of the properties with a stop it is generally the quickest way to get around albeit very expensive at $5 a ride.
Shopping
The best bargains are to be had at the 2 Premium outlets – North and South. They have mostly similar shops but I prefer the south as it has more variety and most importantly now has the Cheesecake Factory there! If you don't want to get a cab, Uber or drive, the best way to get there is the WAX bus from the side of NYNY. This only takes 15 minutes and costs $2 in comparison with the SDX or Deuce buses which can take 45 minutes depending on the traffic. If you have a mastercard you can present at the Visitor Centre and get a booklet with some significant discounts in selected stores. You also sometimes find coupons for a VIP booklet which will give a similar set of discount vouchers when you collect it from the visitor's centre.
The 2 other shopping malls I like are the Fashions Show mall and the lesser known Towne Square.
Fashion Show mall has over 250 stores, 25 dining choices and 8 department stores. It is situated directly opposite Wynn. Live entertainment includes weekly New York-style runway shows. They have also recently started including more al fresco dining areas.
Towne Square is a very different sort of mall. It is laid out like a town with low rise spanish style terracotta roofed buildings that are set around a green. There are upscale bars and restaurants such as my favourite Tommy Bahamas restaurant which features Hawaiian food. There is also a large Wholefoods and the Container Store along with most of the usual mall shops.