If, like my Roving Reporter, you have imagined that Marbella resembles something like on the sitcom Benidorm or it's full of TOWIE wannabes on their annual trip to 'Marbs', you would be sadly mistaken! I recently went on a short break and was pleasantly surprised by the town of Marbella. The last time I had visited was at least 20 years ago and it hadn't changed much in the centre of town. The coast surrounding it has its share of monstrosities but the town itself is relatively unspoilt. I was particularly impressed by the charming old town with its many restaurants and shops to browse.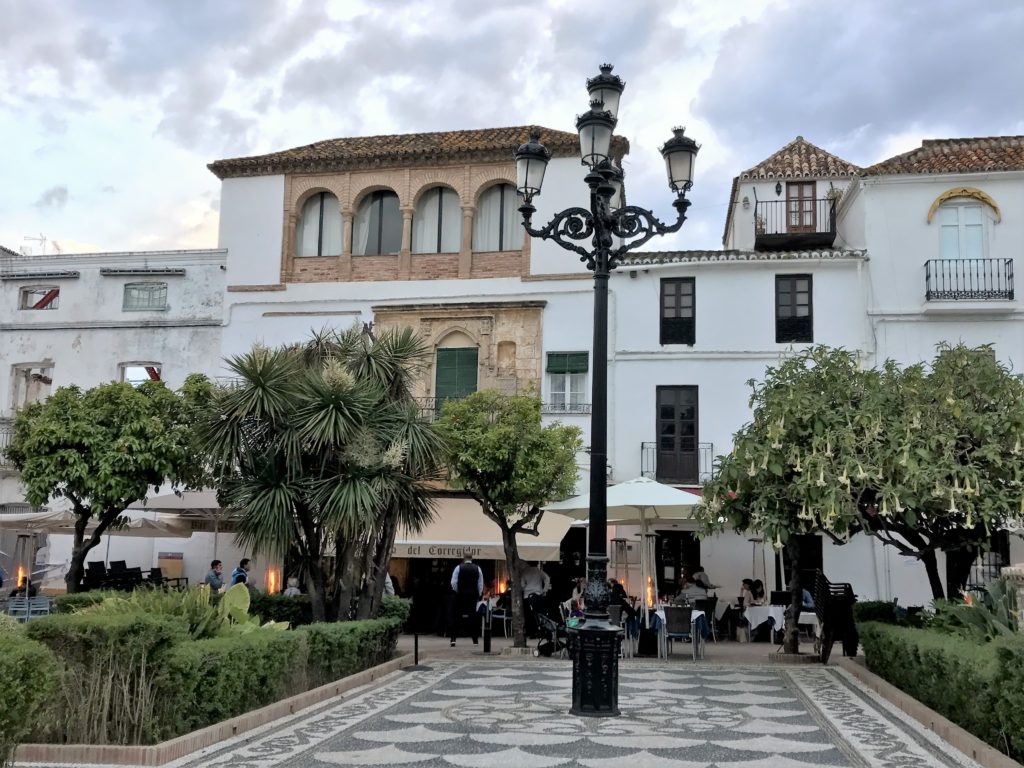 Getting there
British Airways fly direct from Gatwick to Malaga, which is the nearest airport. If you are not worried about Avios, there are flights with many airlines direct to Malaga for reasonable prices. Malaga airport is about 35-45 minutes easy drive to Marbella. I recommend car hire as there are plenty of places along the coast to visit.
Where to stay
I would recommend staying in the centre of town so that you can enjoy the myriad of restaurants and bars during the evenings. In the premium category, there are 4 hotels near the centre.
Hotel Fuerte
Hotel Fuerte is the hotel that we stayed in. My honest review was that it was OK but had a bit of a package holiday feel at times, despite the pleasant surroundings. The hotel is situated a few minutes' walk from the old town and, in that respect, it is probably the best located of the hotels. It has the best of both worlds in that it is situated directly on the start of the Paseo Maritimo along the seafront but central to town. You can also walk along the Paseo Maritimo to all the sea front cafés and restaurants very easily. It is a quiet location despite its closeness to the action.
The rooms were pretty typical for a Spanish hotel. They were reasonably modern apart from the bathroom which felt a bit dated. It had all the basics you would expect in a four star hotel including a free bottle of water per stay. There were no bathrobes, which I found irritating if you wanted to go to the pool. You could get one, but had to pay a deposit. You were also given towel cards so you could get a towel at the pool. Anything that makes me think that the hotel are expecting me to steal their cheap bathrobes and towels is never a good start to a holiday!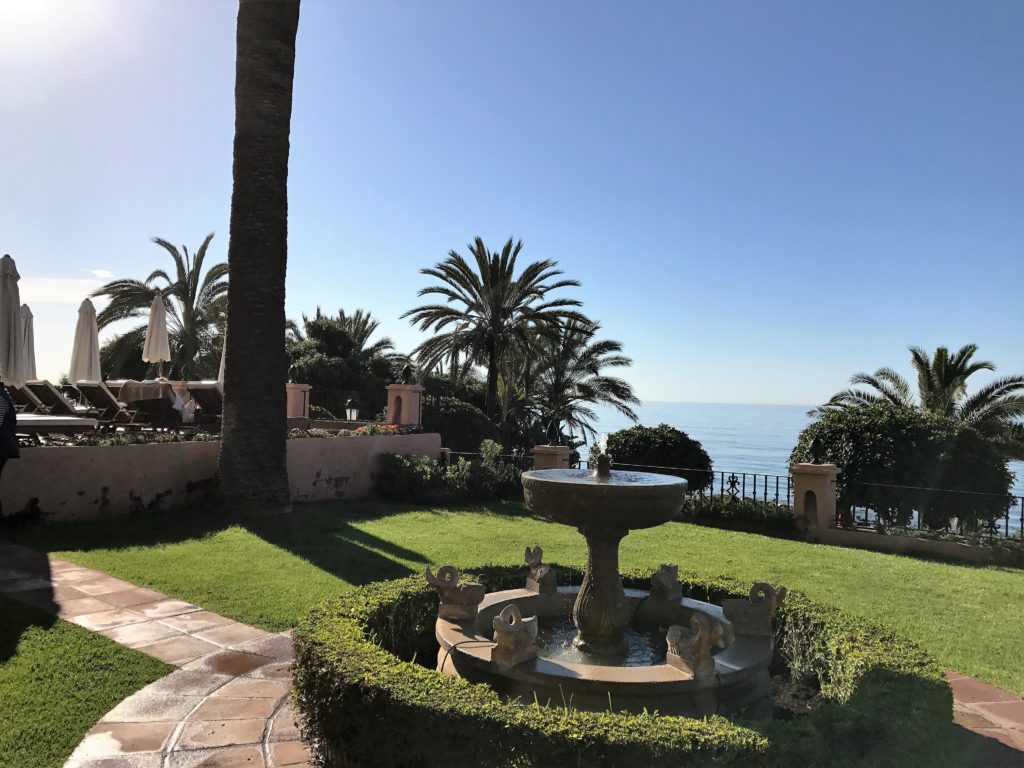 If you visit out of season as we did, the age group of the clientele is rather high. We were about 20 years younger than most of the other guests! Breakfast was included and had a good choice of items, although it was very busy and not the most relaxing start to the day. It would probably be better during the summer when you can sit outside for breakfast.
The hotel advertises a spa but actually, it is at the Amare hotel, a 5 minute walk away. The spa is worth visiting for a treatment but not paying just to use the facilities. There is a hydrotherapy pool with bubble beds, experience showers, a jacuzzi and steam room. The whole facility is on the small side so it is best to book in advance. If you book a treatment you get to use the spa for free. The treatments were normal hotel prices.
The hotel has 2 pools, one of which is enclosed during the winter and heated. On warmer days they open out the doors so you don't feel so enclosed. It was rarely busy and enjoyable to swim in, apart from having to wear a bathing cap (this is a local requirement). You can buy a cloth swim cap from reception.
I would probably not return during winter again, but maybe during the summer. This hotel does have a great location and the staff were all extremely helpful and friendly. We booked through hotels.com with a voucher code we had from signing up to their emails.
Amare Hotel
The Amare Hotel is also situated along the front, a short walk from the Fuerte. The pool area is not quite as nice but the hotel is more modern and the clientele is much younger. The hotel has a Miami South Beach feel to it, with clean lines and lots of white. There is a beach club if you would rather sit on the beach itself. The hotel also features a Michelin star restaurant. The prices here tend to be slightly cheaper than the Fuerte and the rooms have all been recently renovated.
Gran Melia Don Pepe Hotel
This is the most luxurious hotel near the centre of Marbella with prices to match. Gran Meliá Don Pepe is a 5* hotel located on the seafront next to Marbella's Don Pepe Beach. It is 15 minutes' walk from Marbella Old Town. It has 3 outdoor pools and a spa. If you fancy going in the winter, there is a heated indoor pool as well as a gym. The hotel also has 2 tennis courts and 2 paddle courts. The spa includes a Turkish bath, hot tub and sauna, and offers various massages and treatments. If you like having lounge access at a hotel, the Gran Melia has a 'red level' package where you get access to the club lounge with free breakfast, drinks and canapés in the evening and even butler service!
To book the Melia, the best deal is normally through Melia.com. If you join Melia Rewards (free) you will get up to 20% discount as well as €20 per room per day to spend in the hotel. For new members you also get 2,000 points joining gift which you can use to discount a booking.
The Townhouse Marbella
If you fancy a boutique hotel, then you may want to try The Townhouse. This Mr and Mrs Smith hotel is set in the heart of the Old Town and features a roof terrace and courtyard. There are no facilities such as a pool, but you are only a short walk from the beach. If you book via the hotel or Mr and Mrs Smith you will receive a free bottle of cava.
Things to do
You may tempted to just sit and relax but it well worth getting out and about to do a bit of sight-seeing. One must-see is the old town and Orange Square (Plaza de los Naranjos) in Marbella. The area is full of narrow streets with white washed Andalusian houses. There is a plethora of boutique shops, wine bars and restaurants in the tiny streets. Spending an hour or two wandering the streets with a bite to eat or a drink is a very pleasant way to spend your holiday. On your way, walk through the Alameda Park, a traditional Spanish park full of tropical plants and fountains. Next to the park is a fantastic patisserie where you can stop for a cake or snack or perhaps just a drink.
There is also Puerto Banus nearby with its mega yachts as well as upmarket shops and restaurants. It is rather touristy and a bit on the 'bling' side, but if you like shopping or are a foodie it is worth visiting for the enormous department store, El Corte Ingles, that is situated here. It is a bit like the Harrods of Spain and has an enormous food department which is worth a wonder round and there is an excellent wine section if you wanted to bring some back.
Further down the coast you can visit Gibraltar and its apes, or even go to Morocco for the day. A very different option is to venture inland to some of the nearby towns. Ronda is about 1 hour 15 minutes away and is a must see if you have time. The town is perched on a mountainside spanning a steep gorge. The bridge across the gorge, Puente Nuevo, or 'new bridge' was in fact, built in 1793. There are many things to see such as one of Spain's oldest bullrings, stunning views and ancient Moorish walls and Arab baths.
Mijas is about 1 hour away and is a hill top white washed village that does not allow cars in its narrow streets. Instead you will have to walk up to the centre of the village from the car park or take one of the unconventional 'burro taxis' i.e. a donkey!
Eating out
You will not go short of a good meal in Marbella and there is a cosmopolitan mix of restaurants including Thai, Italian and Indian as well as the more traditional Spanish restaurants. All along the Paseo Maritimo are restaurants on the beach called chiringuitos. These understandably specialise in seafood, along with paella. They are a great spot to sit and enjoy the sea view with a few barbequed sardines and a chilled glass of wine.
La Taberna del Pintxo
If you fancy a casual, cheap and authentic evening, try La Taberna del Pinxto. This serves the traditional Basque tapas, pintxos, which are usually served on bread speared by a cocktail stick. You take your seat and order drinks, then the fun begins. A seemingly never-ending parade of pintxos are passed round the restaurant by waiting staff. Each one has a cocktail stick in it of various styles and at the end of the night they count how many of each type you had, to calculate the bill. There were hot and cold varieties including avocado and prawns, tuna tartare, crab, cheese, meat, vegetarian, savoury pastries and many more. The cold ones were also available to help yourself to from the bar area.
We also had an excellent local red wine from Malaga which only cost €16 a bottle. You can also order more substantial tapas such as prawns pil pil or patatas bravas as we did. The whole meal was only around £45.
Compasion
If you fancy some tapas with a difference, Compasion is the place to go. It is in the centre of the old town and offers a lovely rooftop terrace for dining all year round. It specialises in tapas with a twist. We tried the rather odd sounding local speciality, crispy aubergines with honey. It is in fact deep fried aubergine with a drizzle of molasses which was delicious. They also added a touch of Asia into the hot tapas with a bao bun served with Spanish style pork. The meal was very reasonable and even including wine and dessert it only came to around £45.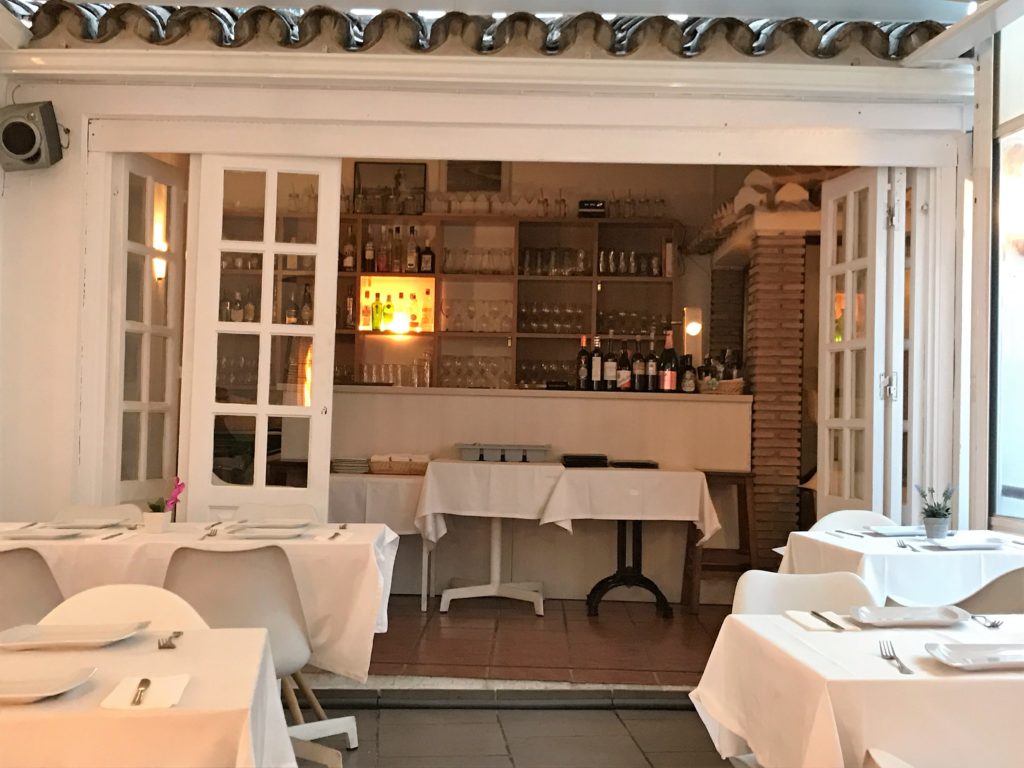 Paco Jimenez
This has one of the best settings for a restaurant in Marbella, being situated on an upper floor overlooking the Plaza de los Naranjos. The restaurant itself is tiny so you must book in advance, particularly if you wanted one of the 2 tables on the balcony that overlook the square. The food is fine dining and beautifully presented. We started with a small amuse bouche and then had a variation on prawns pil pil, but with langoustines, which came sizzling to the table. My main course was a deliciously light and crispy pastry filled with crab, whilst my husband had a tender pork loin with a sherry sauce. We were impressed by the food which had a Spanish flavour but with a modern twist. It was by no means cheap at around £100, but worth every penny for an authentic fine dining experience. Their website is here.
Garum
Garum is set on the Paseo Martimo and is a modern restaurant with a touch of South East Asia along side Spanish classics such as gazpacho. The inside is a modern, minimalist theme. The restaurant was fully booked on the Monday evening when we visited, so reservations are a must. During the summer months there is a large terrace to dine on overlooking the sea.
The Garum cellar offers a wide selection of Spanish wines produced in small, select vineyards. Each one is unique and has been hand-picked to complement the menu. We started with the more traditional gazpacho soup and then the slightly adventurous pastrami salmon with white sesame and teriyaki sauce; smoked salmon & shrimp roll and horseradish ice cream. Both were presented in a stylish way and were enjoyable.
To follow we had wild Icelandic cod with yellow pepper and ginger sauce, green beans and pesto potatoes. I had the grilled prawns in a Thai curry with vegetables, cashew and bamboo served with Japanese noodles. I had thankfully asked for a half portion which they offer on some dishes. the portion size was more than enough. Although it may not have been the most authentic tasting green curry, it was well balanced and enjoyable. It was more like a coconut sauce with some Thai flavours, but that was fine by me. We finished off by sharing an indulgent Bailey's tiramisu which was lighter than it looked and disappeared very quickly! Finally we were offered a drink on the house and finished with a Limoncello each. The total bill was around £85 including wine.