I visited the Air Canada Maple Leaf™ Lounge before flying to Istanbul in business class with Turkish Airlines. Although this is not one of the best lounges I have visited, the service was very good, and there was a wide range of seating as well as good food and drink available.
Introducing the Air Canada Lounge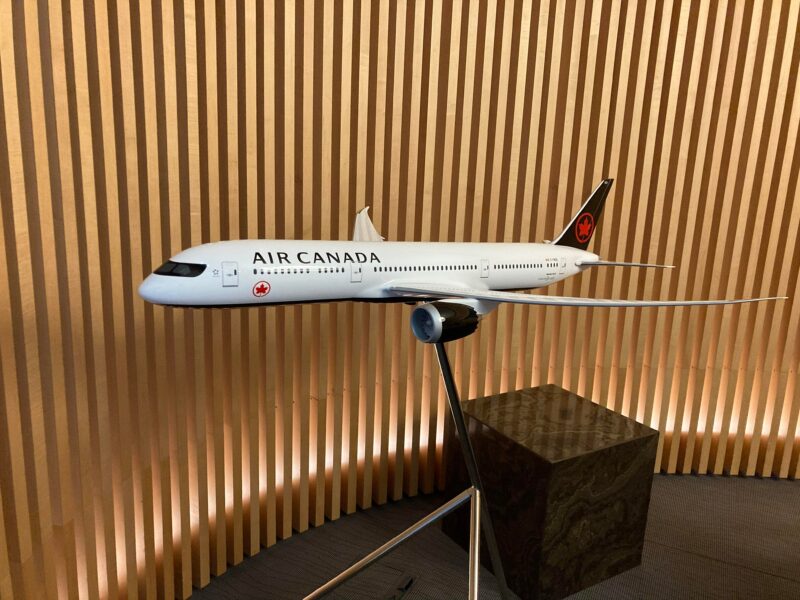 The Air Canada lounge embodies a fusion of modernity and comfort, providing an oasis away from the busy atmosphere elsewhere in Terminal 2. Air Canada has lounges in 16 airports across Canada, the U.S. and Europe. Other European lounges include:
Frankfurt: Terminal 1, Concourse B
Paris Charles de Gaulle: Terminal 2A, by Gate 37
Skytrax has given the Maple Leaf Lounge at Heathrow 4 stars for facilities and staff service.
How to Get to the Canada Maple Leaf™ Lounge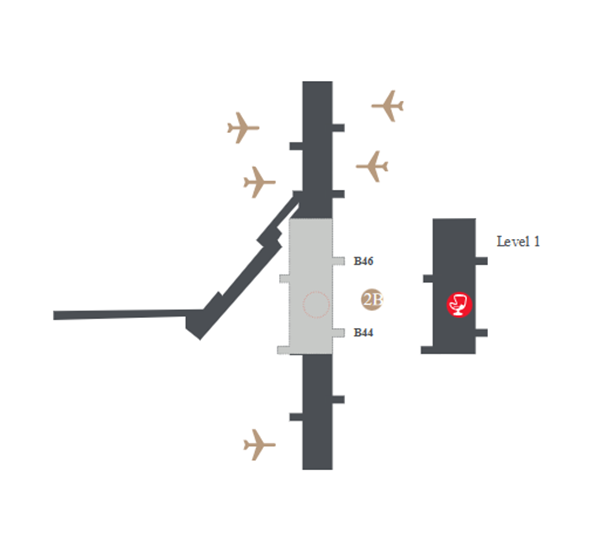 The Air Canada Lounge is located in Zone B, after security, near gate 44. It takes 15 minutes + depending on how fast you walk, to get to the lounge from security. After passing security, go down one floor in the lift or via the escalator and follow signs to zone B. All the signs also have signs to relevant lounges too.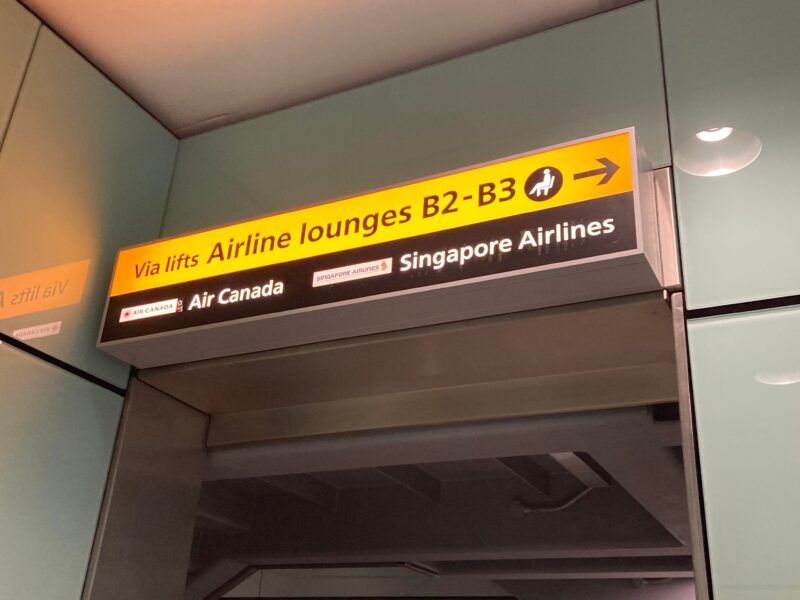 Although the lounge is a long walk, I found it easier to find than the Plaza Premium Lounge I visited previously. After going on several travelators, you will reach Zone B, where you need to start following signs to the Air Canada Lounge.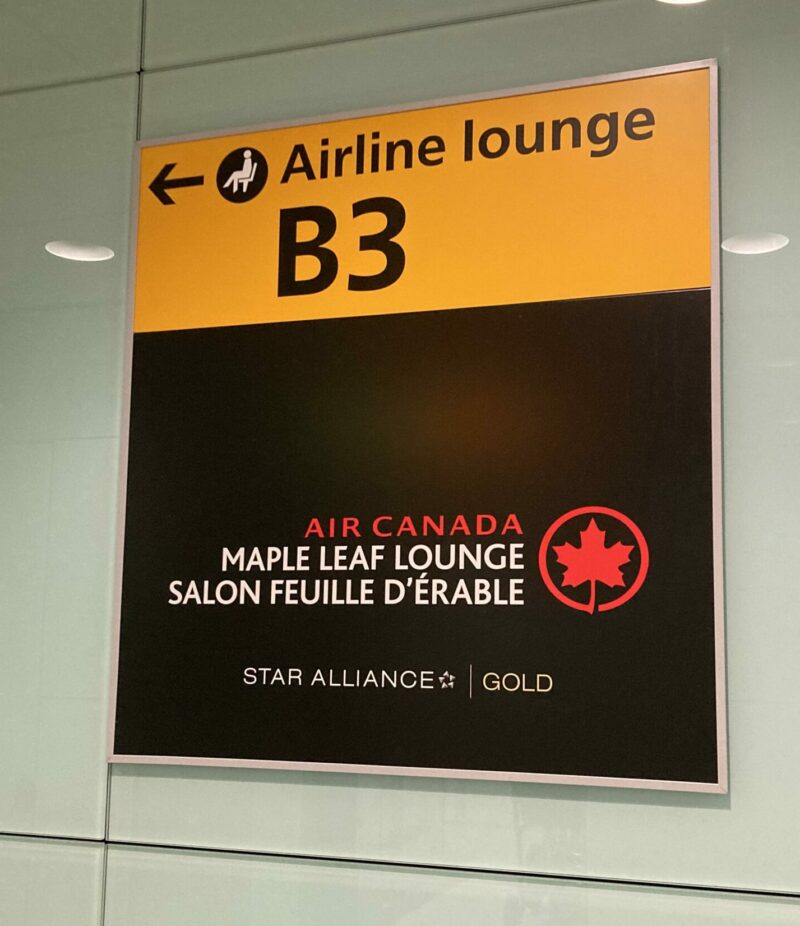 Once you reach the lounge, you can enter via the stairs or lift.
Who Can Use the Air Canada Lounge at Heathrow Terminal 2?
You don't have to be flying with Air Canada to use the Maple Leaf Lounge. I was travelling with Turkish Airlines! You can access the lounge if you meet one of these requirements:
Air Canada Business Class: You can access the lounge automatically with a business class ticket with Air Canada. Because Air Canada is part of the Star Alliance, you can also access the KrisFlyer Lounge. Lufthansa and United Lounge.
Aeroplan Elite 50K, 75K, Super Elite Members: Members of Air Canada's Aeroplan Elite tiers have access to the lounge. Members can also bring in their spouse, one guest and up to 5 children at no extra cost. Additional guests can enter for £25 each.
Star Alliance Gold Card: If you have Star Alliance Gold, you can access all 4 Star Alliance lounges at Heathrow Terminal 2 free of charge with one guest. If you wish to bring more guests, it's £25 per guest.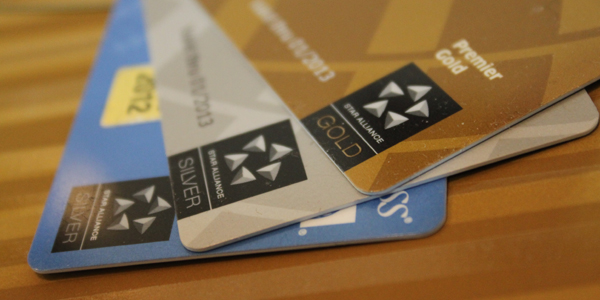 Business Class on a Star Alliance Flight: If you're flying in business class on any Star Alliance airline, you can access all 4 Star Alliance lounges in Terminal 2. All but the Lufthansa lounge are located in Zone B, a long walk from the shopping area and a long walk back with no travelators (on the return) if you depart from Zone A or C. I was flying with Turkish Airlines, which doesn't have its own lounge at Terminal 2. In this case, I recommend you choose a lounge near your departure gate.
If you Have Purchased Entry: Premium Economy, Latitude, comfort, or Flex fare, customers travelling on Air Canada can purchase a one-off lounge pass.
Don't Meet The Criteria?
If you want to enjoy the lounge experience at Terminal 2, but you're not flying in business class or do not have Star Alliance or equivalent status, I recommend the Plaza Premium Lounge, which I enjoyed in March before flying to Bangkok.
More food and drink options are available, and the lounge is larger. I preferred this lounge to the Air Canada and United Lounge. I will be publishing a full review of the Plaza Premium Lounge soon.
Opening Times
The lounge is open from 6:30 – 17:30.
My Experience

I received a friendly welcome at the desk on arrival. There was no queue so I entered straight away! Upon entering the lounge, you'll be at the food station. If you go round the corner, there are lots of seating options.
My first impressions were that the lounge was one of the smallest ones I have ever been in, with little variety of food.
However, the lounge was not very busy at the time of my visit, and it did have everything I would need from a lounge and was close to gate B47, where I was departing from.
Seating
From plush armchairs to ergonomic workstations, you'll find plenty of spaces to relax, indulge, take in the views or catch up on work in the Air Canada Lounge.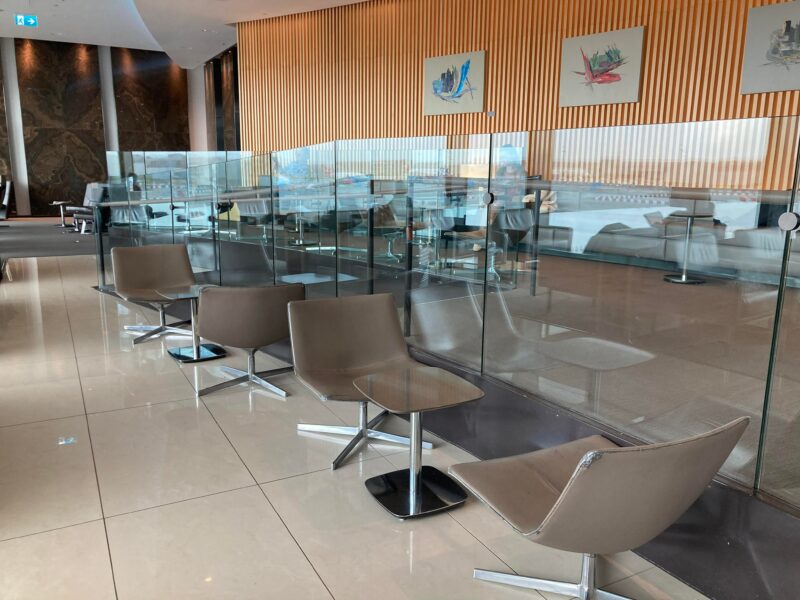 This seating area had access to plugs after opening a floor-level cover. They were not the most popular areas to sit in, and it was pretty hard to work with a chair spinning slightly and a low table. However, this area would be a good choice if you travel with a companion and are not working.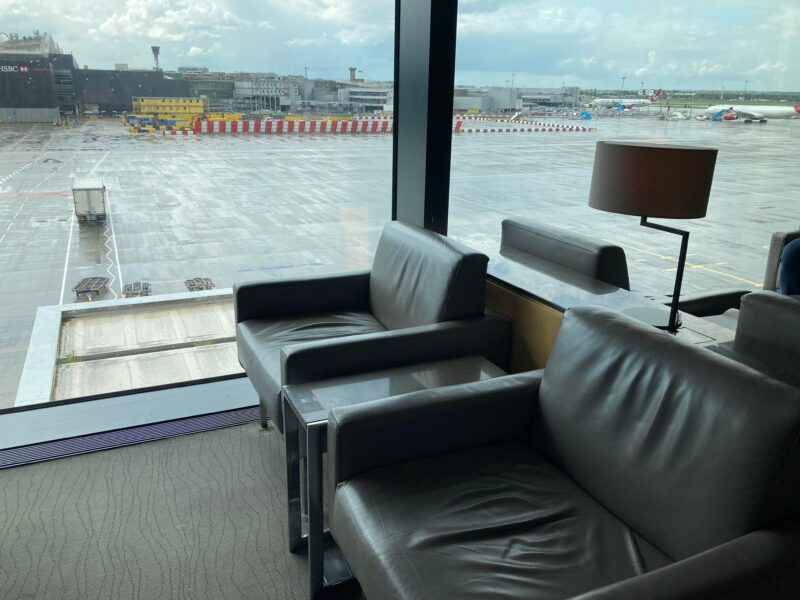 These plush window seats were in groups of 4. They were the most popular seating option with in-seat sockets, a resting table, and views of aircraft parking. If you are flying with Air Canada, you should also be able to see your plane from here.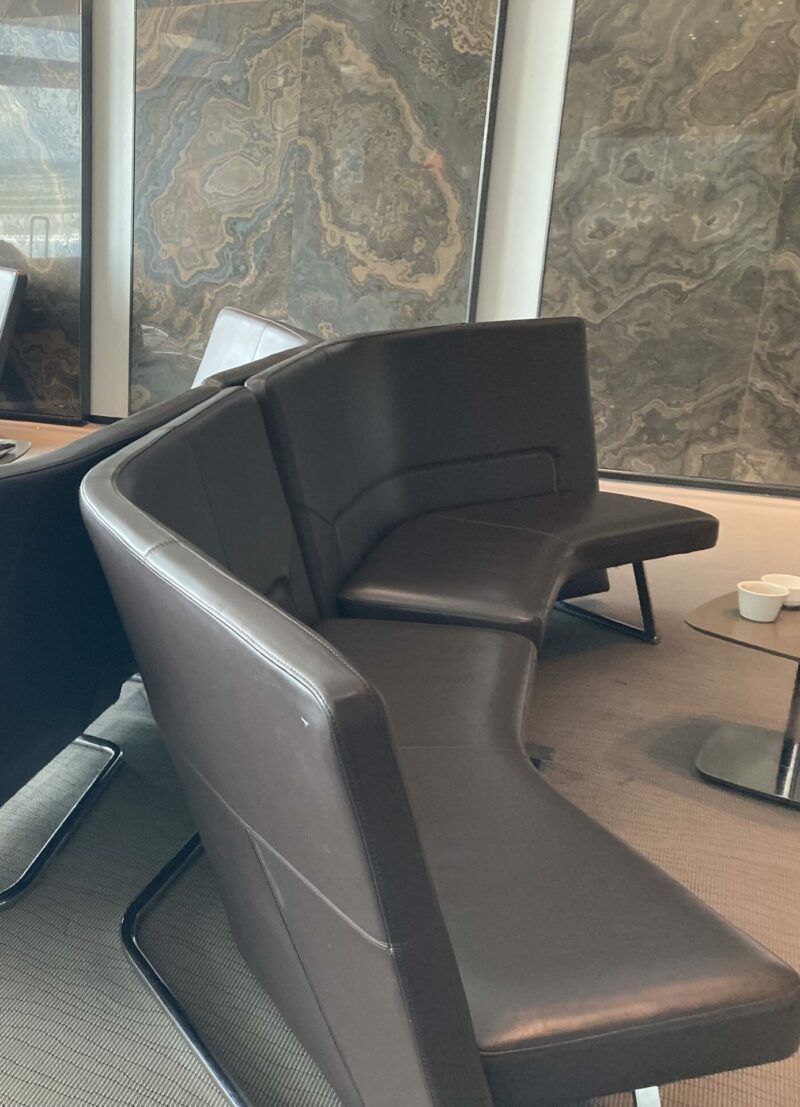 Quiet Zones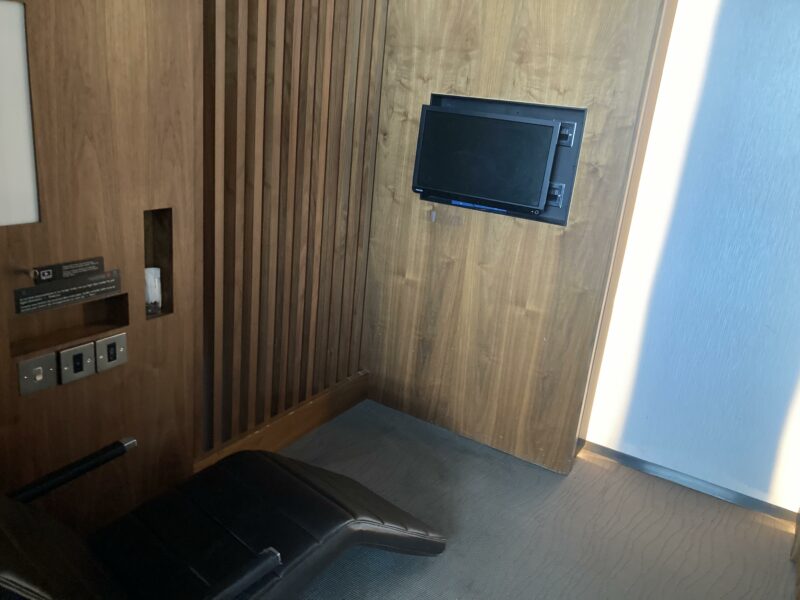 Around 4 of these quiet zones were available, and only one was occupied during my visit. I would choose the Air Canada Lounge if I ever needed to catch up on some sleep at Terminal 2! This is one of the most private rooms I have seen in an airport lounge.
Food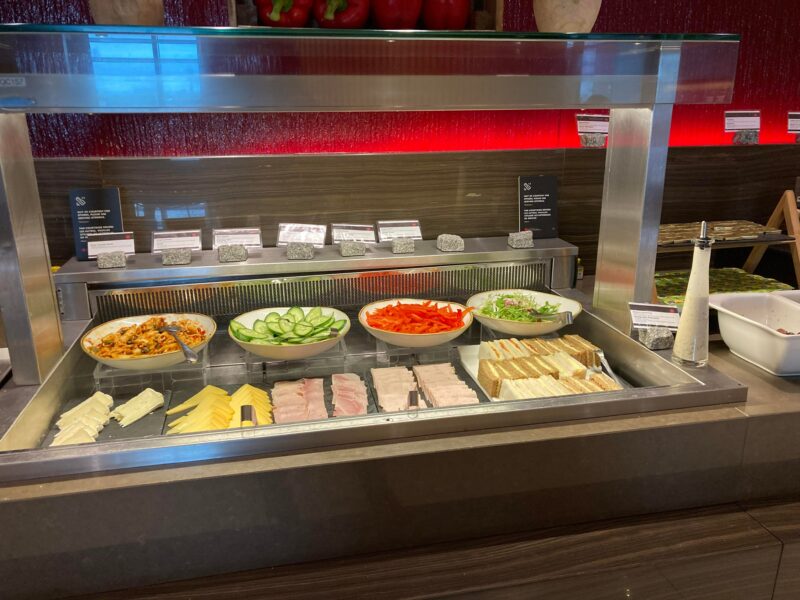 Plenty of sandwiches, salad, cheeses and ham were available. This is not a wide variety, but it's perfect for a healthy snack.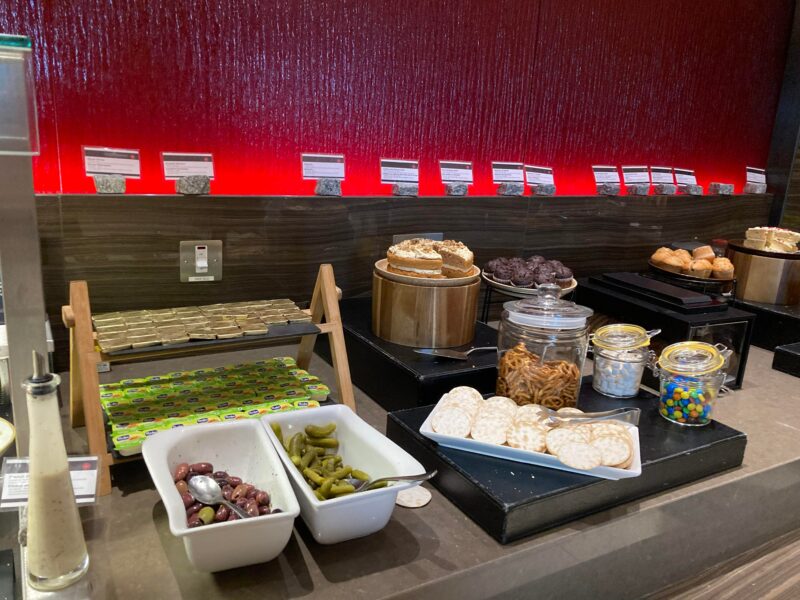 According to other lounge users, the cakes and cookies were delicious! The olives were also very fresh.
There was also a live cooking station where one chef was preparing toasties and paninis to order. In addition to this, there were some choices of ready-cooked hot food, including Thai curry and rice. There was also a pasta dish available.
Drinks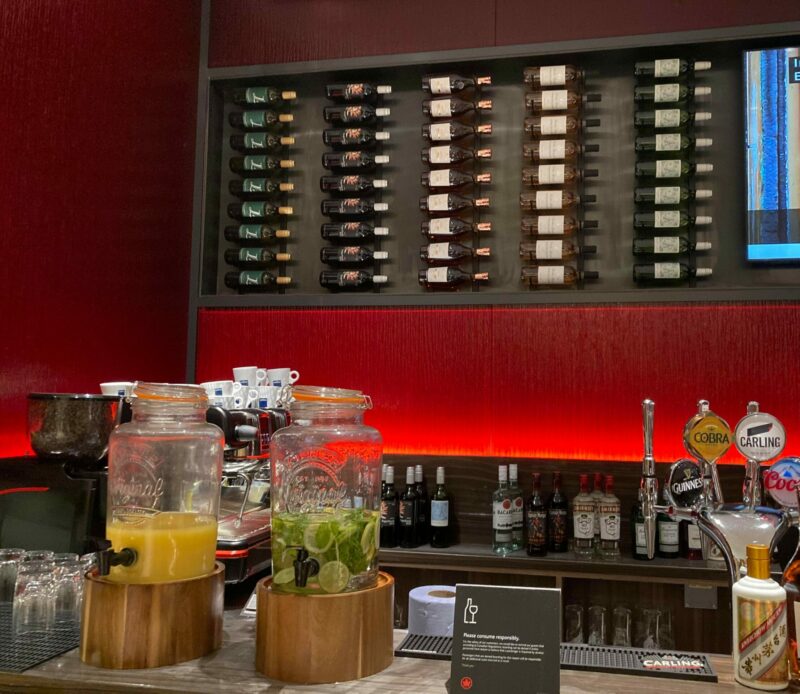 There was no bar menu during my visit, but all the drinks seemed to be complimentary (unlike some in the Plaza Premium Lounge). I was told that all the drinks were displayed when requesting the menu. There were also no mocktails available.
Toilets and Showers
According to Air Canada, the lounge features a 'spa-like shower area', but this was locked during my visit. The toilets were a lot nicer than the toilets outside the lounges in Terminal 2, but they were not the best lounge toilets I have been in!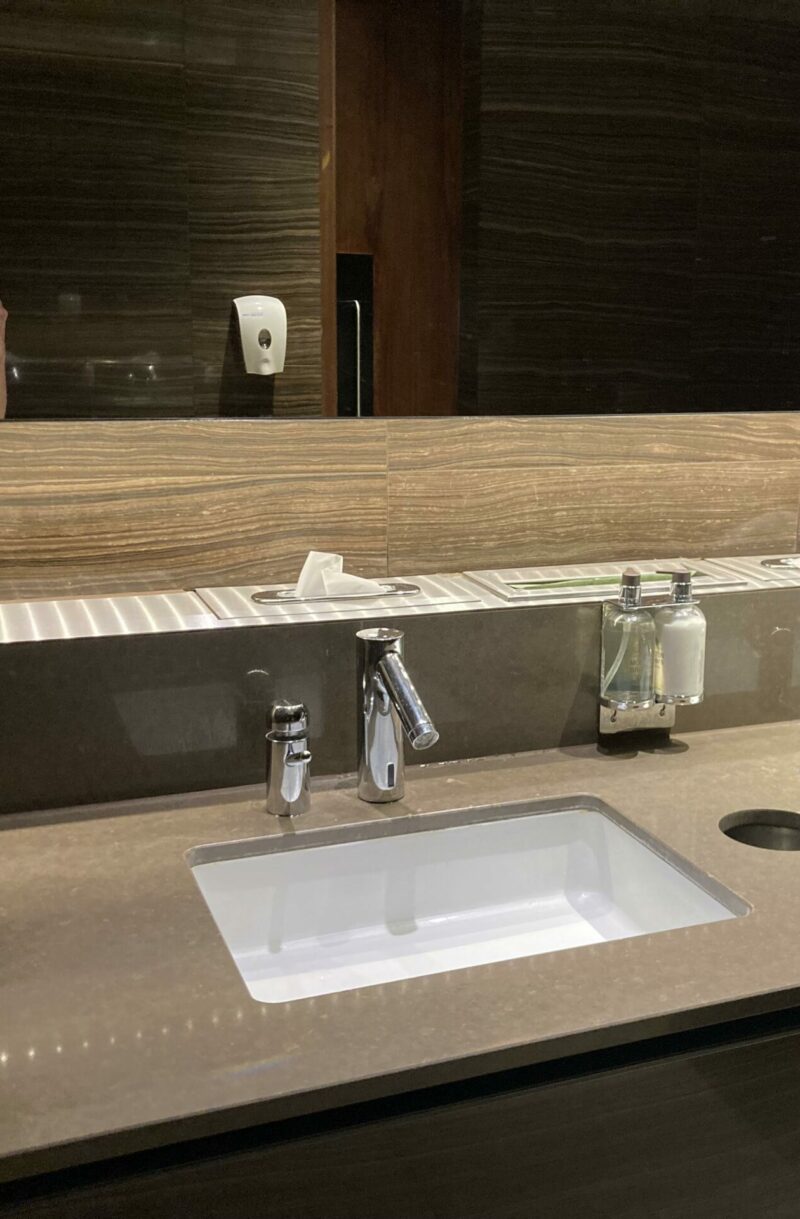 Other Lounge Options at Heathrow Terminal 2
There are five other lounges available at Terminal 2:
Star Alliance Lounges
Lufthansa Business Class Lounge
United Airlines United Club Lounge
If you are unsure which lounge to visit, read the TLFL comparison guide here.
Other Lounges
Aer Lingus Lounge
Plaza Premium – Review coming soon
Final Words
If I was departing from gate B, I might opt for the United Lounge another time. However, I would revisit if I needed to catch up on sleep or were flying with Air Canada. Also, if the United Lounge were too busy, I would switch to the Air Canada Lounge.