Today's article is from TLFL writer Jason.
Background: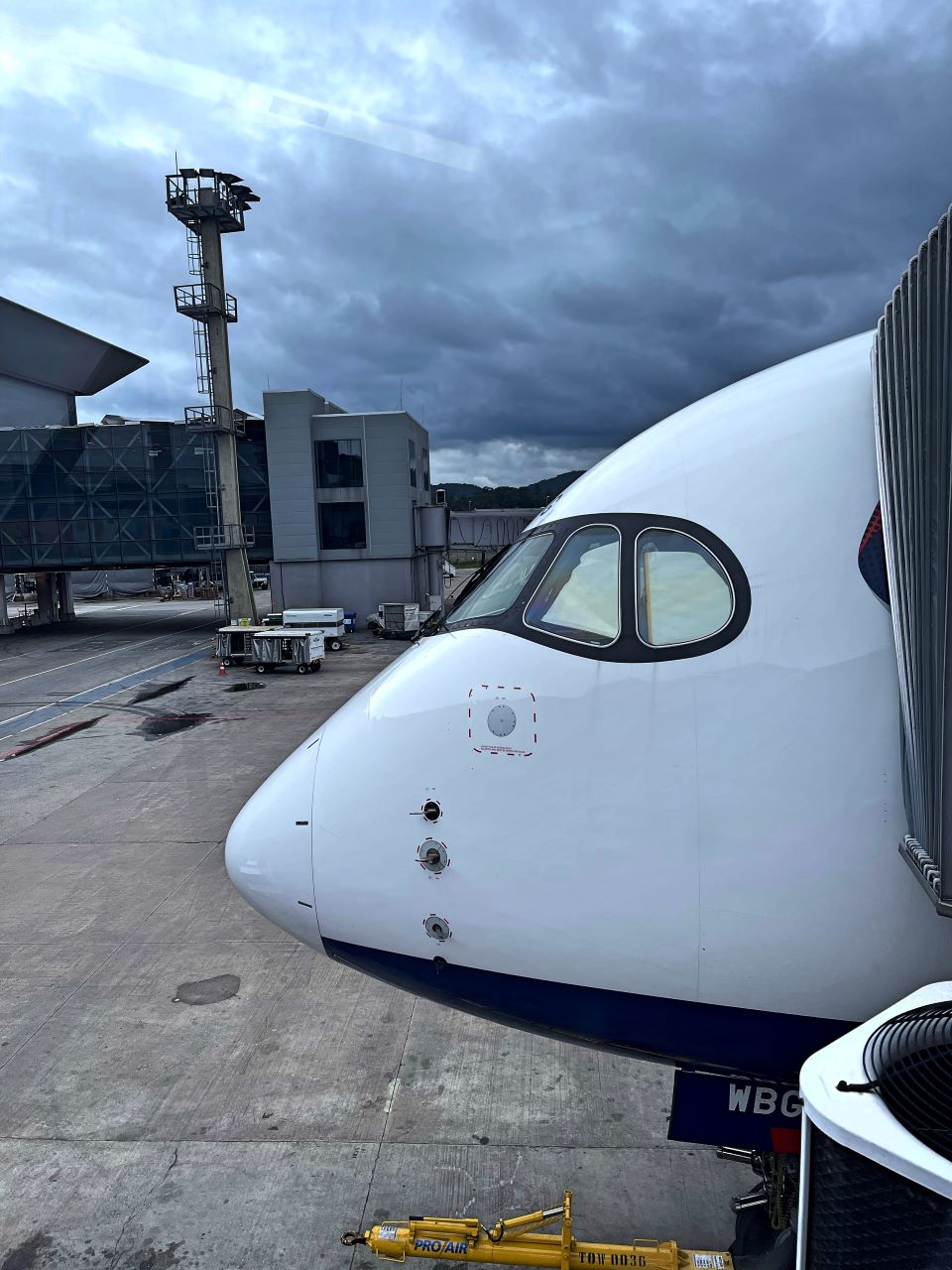 I had some time off over easter and was always eager to escape the British cold, so I decided I would go and visit family in Sao Paulo, Brazil leaving the UK on Wednesday and arriving back the following Monday. The threat of security strikes had been reported on in the media at the time of booking, but like so many other threatened Industrial Actions at LHR over the summer, I was quietly confident (or maybe just hopeful) that this one would be resolved too. After all, ten days of disruption seemed quite significant.
Having a child that doesn't attend school (i.e. my four-legged doggy son), I was completely oblivious to my travels being over a security strike AND school holidays. My planning in terms of timing could definitely do with some work.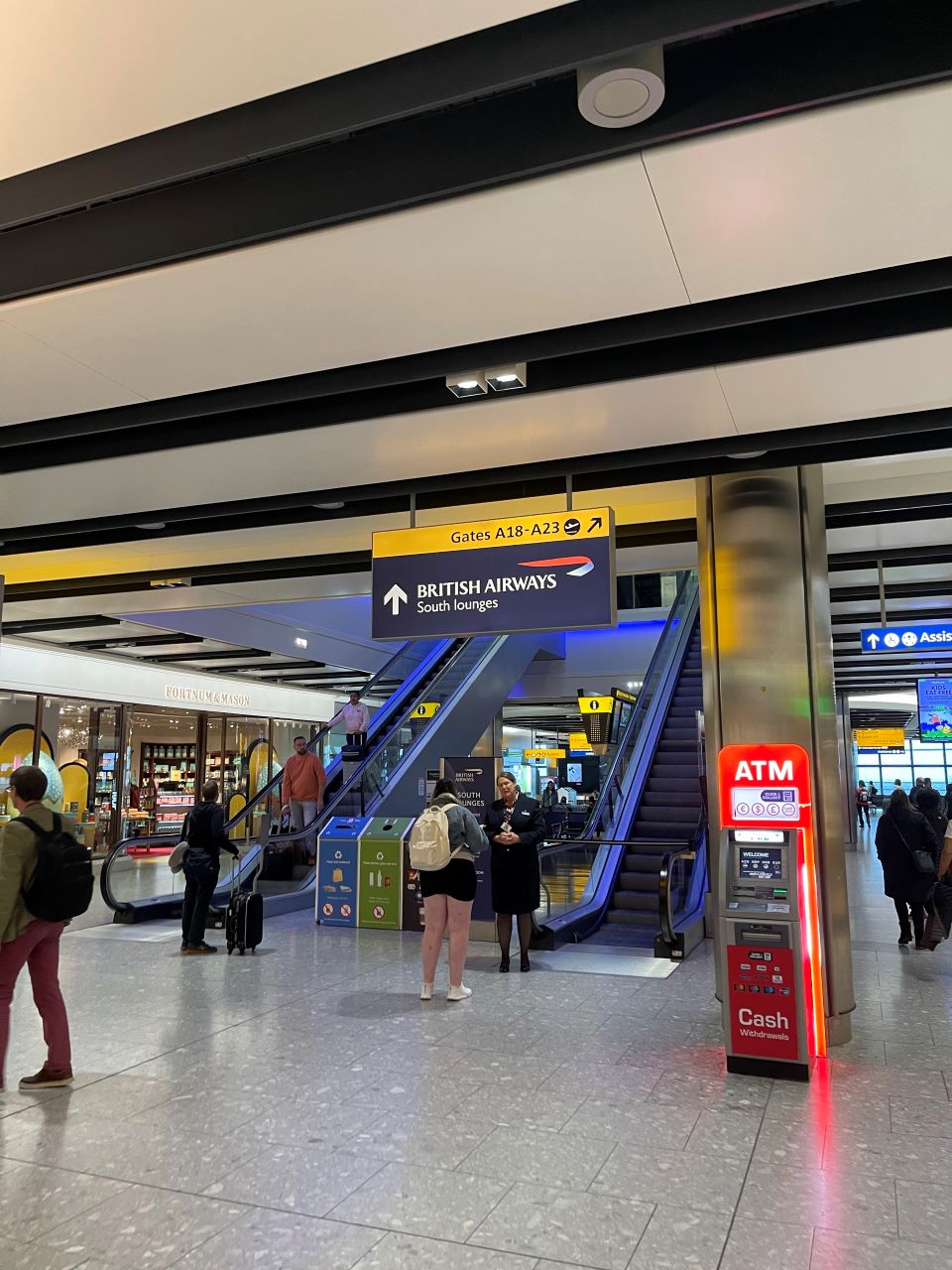 As my long weekend drew nearer and the threat of a security strike at T5 was now a reality, I started to review my plans. I had been booked to fly Manchester – London – Sao Paulo but checking the 'flight status' page of ba.com during the first few days of strikes, it was obvious the main impact was on short-haul flights, with many carrying significant delays or being cancelled altogether. I detest flying from Manchester T3 at the best of times, and with disruption, they are utterly useless at organisation, so I contacted BA, asked the Manchester – London sector be removed from my booking, and reserved a seat on the train to Euston instead (who have now resolved their industrial relations issues hoorah).
Check-in: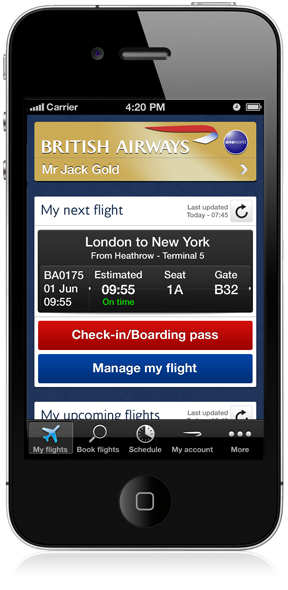 I had checked in via the BA app the day before (note if travelling to Brazil – you need to upload your COVID passport into your BA booking before it allows you to check in). I selected seat 7K, a window seat in the middle of the main Club Cabin.
I was trying to get as much information as I could about security wait estimates and which priority lanes were open and which were not, but to be honest, the details were scant. The Heathrow website simply referred customers to the airline's websites. Ba.com was not really specific; instead just advised Fast Track and the First Wing 'may' be closed. This was understandable as I guess BA had no idea what Heathrow Airports' staff resources would be day by day.
BA advised customers on long-haul flights not to arrive more than three hours before departure and short-haul customers no more than two hours prior. This made perfect sense. Many airports were in absolute carnage after the COVID travel reboot because their advice to avoid delays was to 'arrive as early as possible'. So, you had people arriving six and seven hours before a flight departure, clogging up the security lanes and delaying people behind them who arrived a sensible three or four hours before departure.
Another sensible mitigation that BA made was they allowed those travelling on cheaper hand baggage-only fares to check a bag in for free with the intention of reducing baggage going through the passenger security channels. I was a little worried that they would insist on some draconian policy of just one small personal item through security, but normal hand baggage allowances remained in place. My personal opinion is that it isn't about how much hand baggage a person has. It is about how organised they are. I carry a cabin-sized wheelie and a small backpack, and I had all my bits and pieces out on the tray and on their way through the x-ray way before the disorganised person next to me with one small carry bag.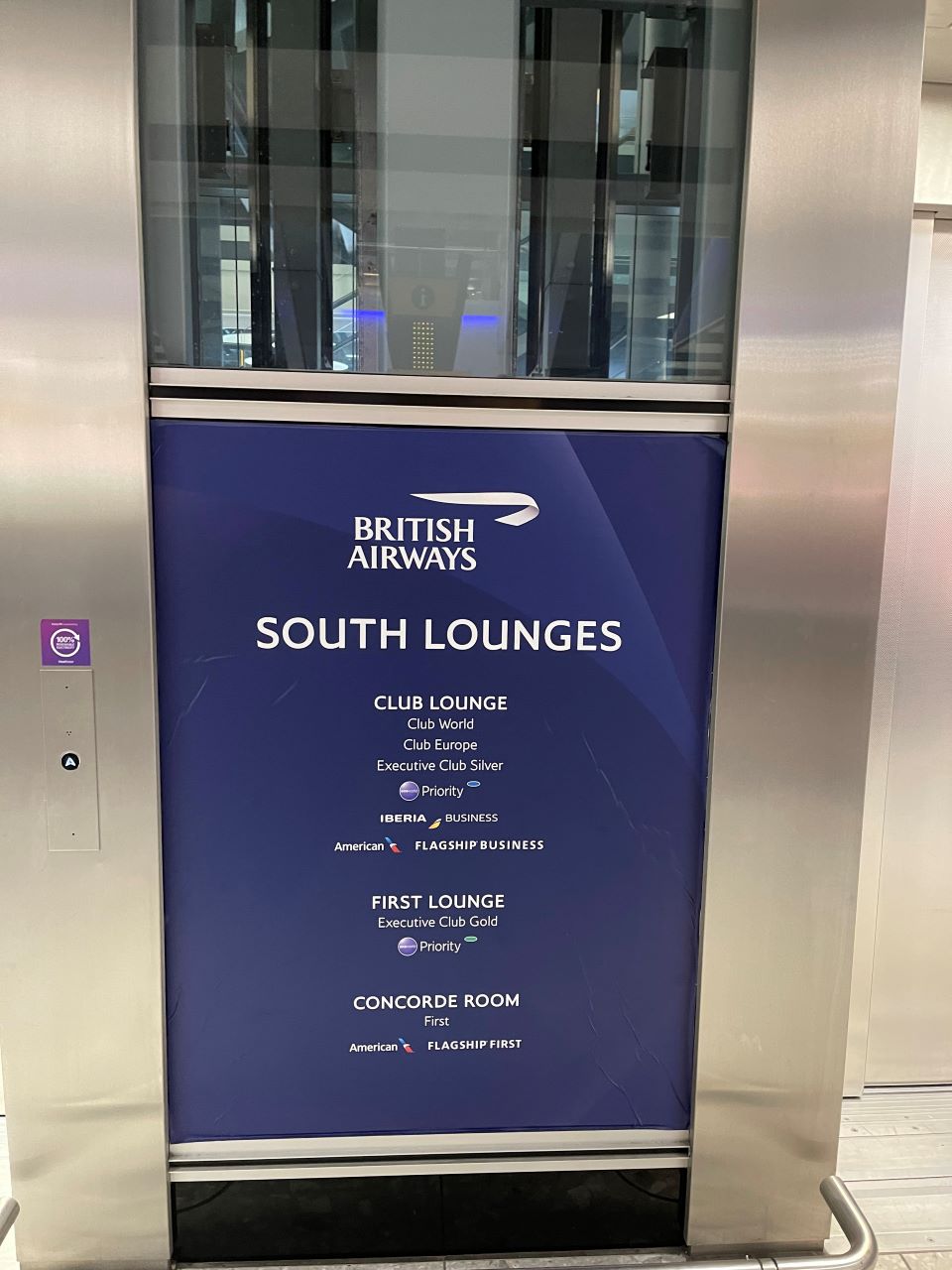 I arrived at Euston just shy of 6 pm, so made my way to Paddington by tube and then onwards to LHR via the Heathrow Express. I arrived at T5 around 3.5 hours before departure, and as the lift doors opened into departures from the train platforms, I was expecting lots of queues and frustrated people. There were none. Departures seemed eerily quiet, and although there was a large winding maze for people to join the general security line, it was empty.
The First Wing security was closed (although the First Check-in area remained open), and I entered the Fast Track North security lane. There were maybe ten other customers in front of me, and I was through in no more than fifteen minutes. I could see the general security lanes also – these were also quiet. This isn't to say that it would have been like this the whole day. I am sure there would be much busier periods. And, of course, BA has a huge number of transiting passengers who have to pass security airside, and I have no idea what the state of play was there. But as a departing passenger, you would have absolutely no idea that there was any Industrial Action occurring. In fact, you'd probably remark on how quick and efficient security was.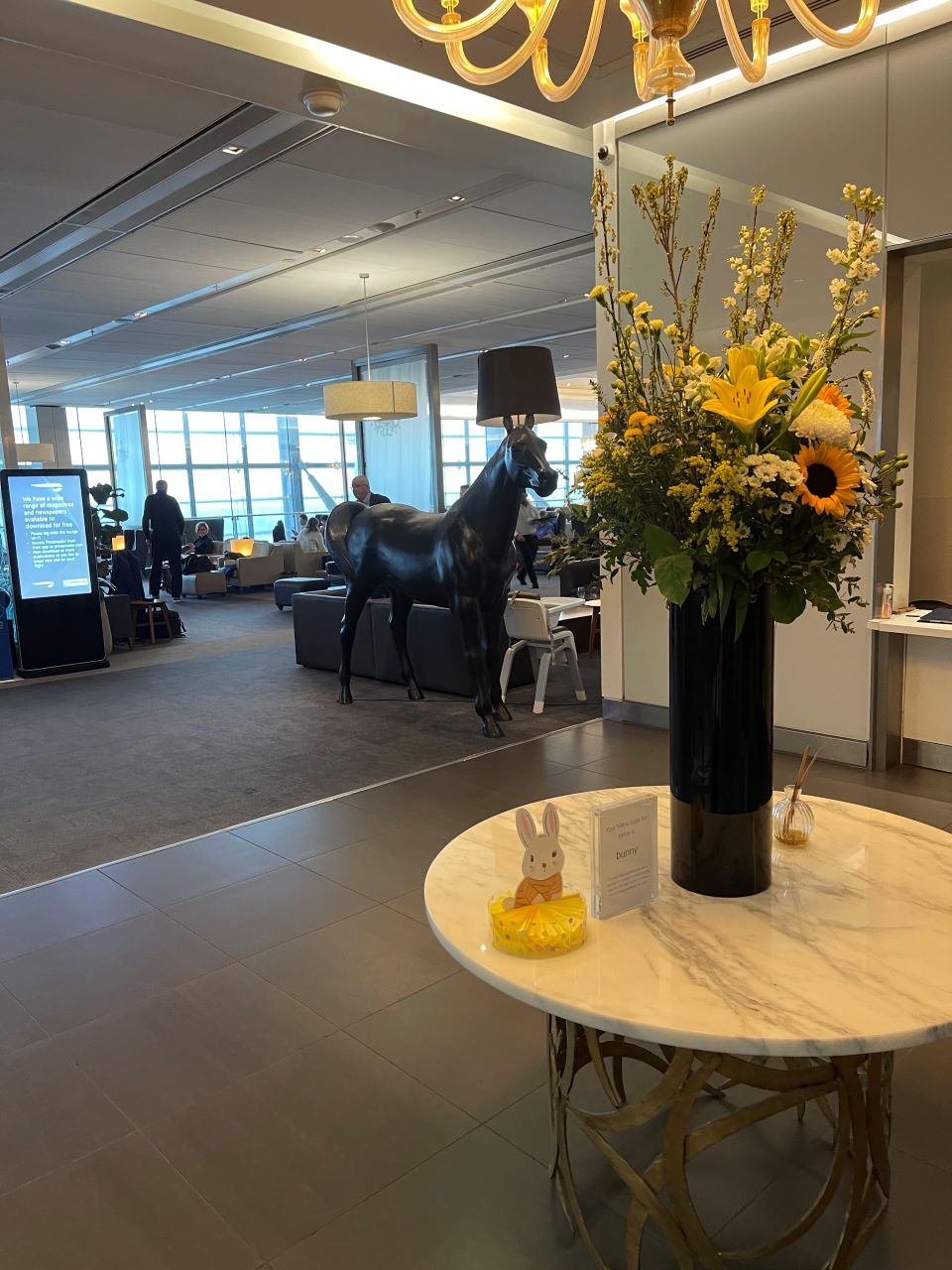 Once airside, the terminal seemed to be its usual buzzing self, and I made a beeline for the First-Class lounge, which was also pleasantly quiet.
There was a delay entering the lounge as the gold Cardholder in front of me was loudly arguing he should be allowed to guest his wife and two teenage kids into the lounge because of the 'huge amount of money I send BA's way'. He (rightfully) didn't win the argument with the staff member calmly explaining that for reasons of fairness, the guesting rules had to be consistent across all cardholders.
I had quite a lot of time to kill with a departure of 10:20 pm, so checked out the food offerings.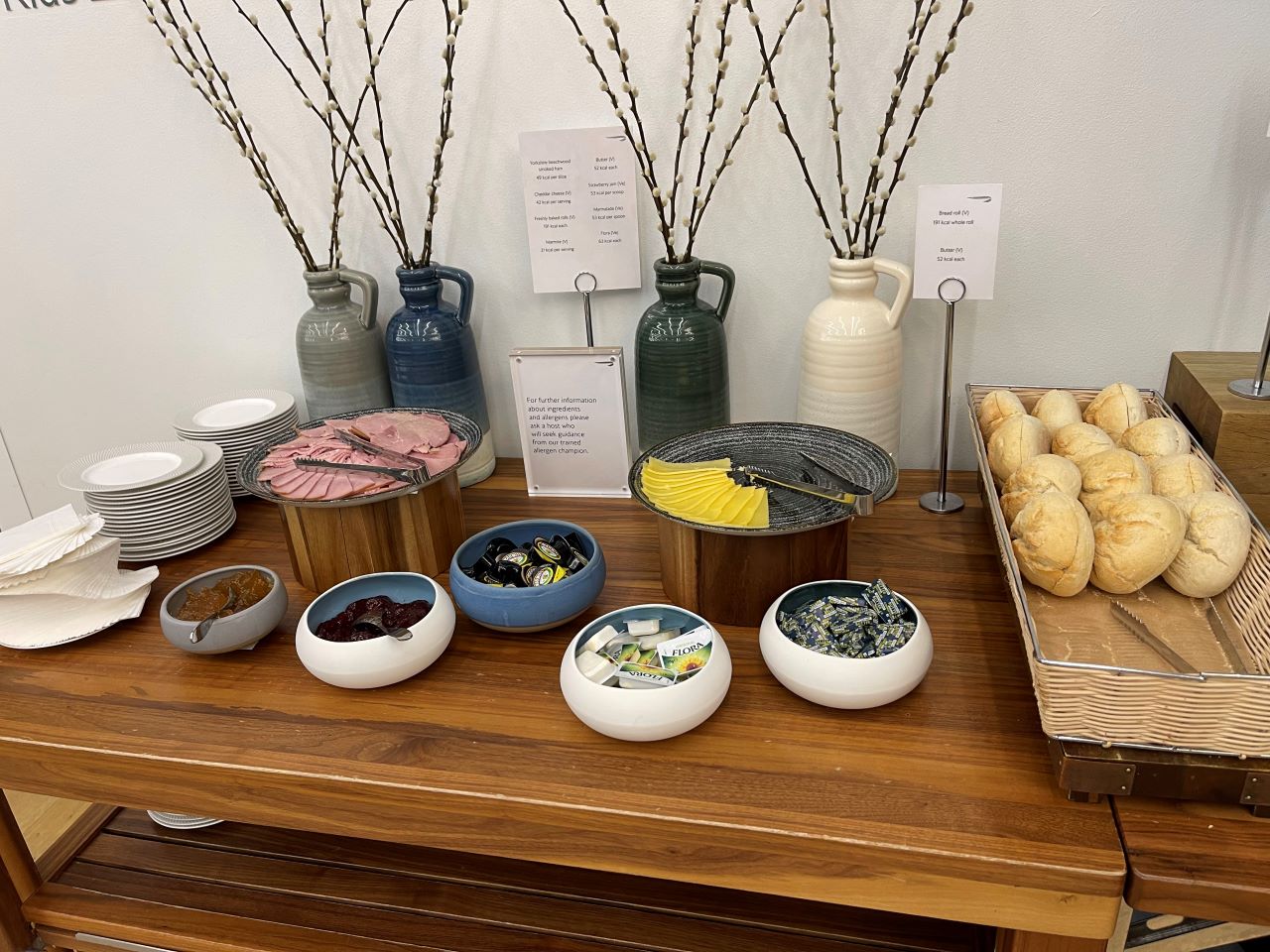 There were three items you could order to your table via your phone, but I generally find these are similar to what is on the buffet anyway, so went and built a DIY dinner.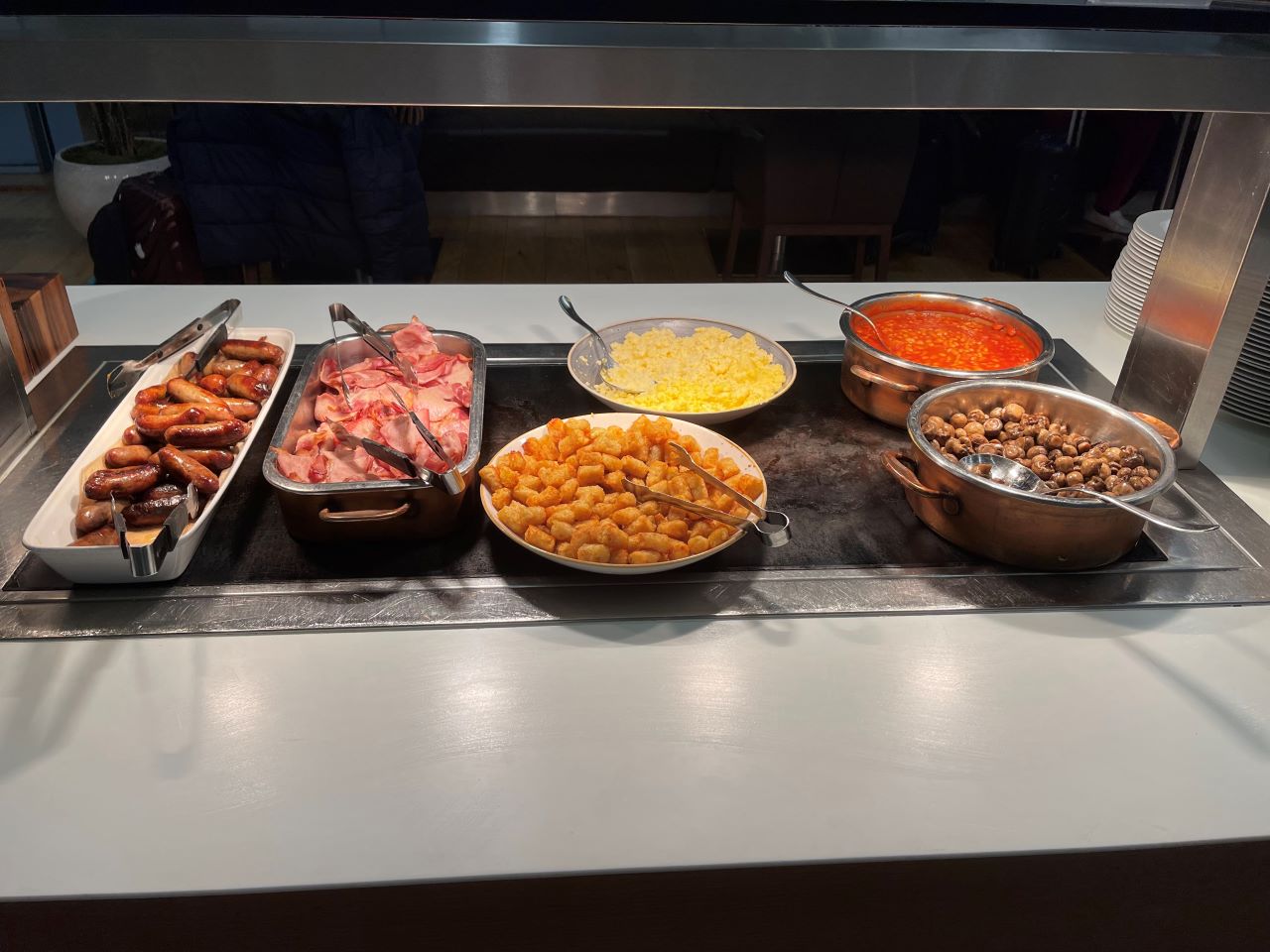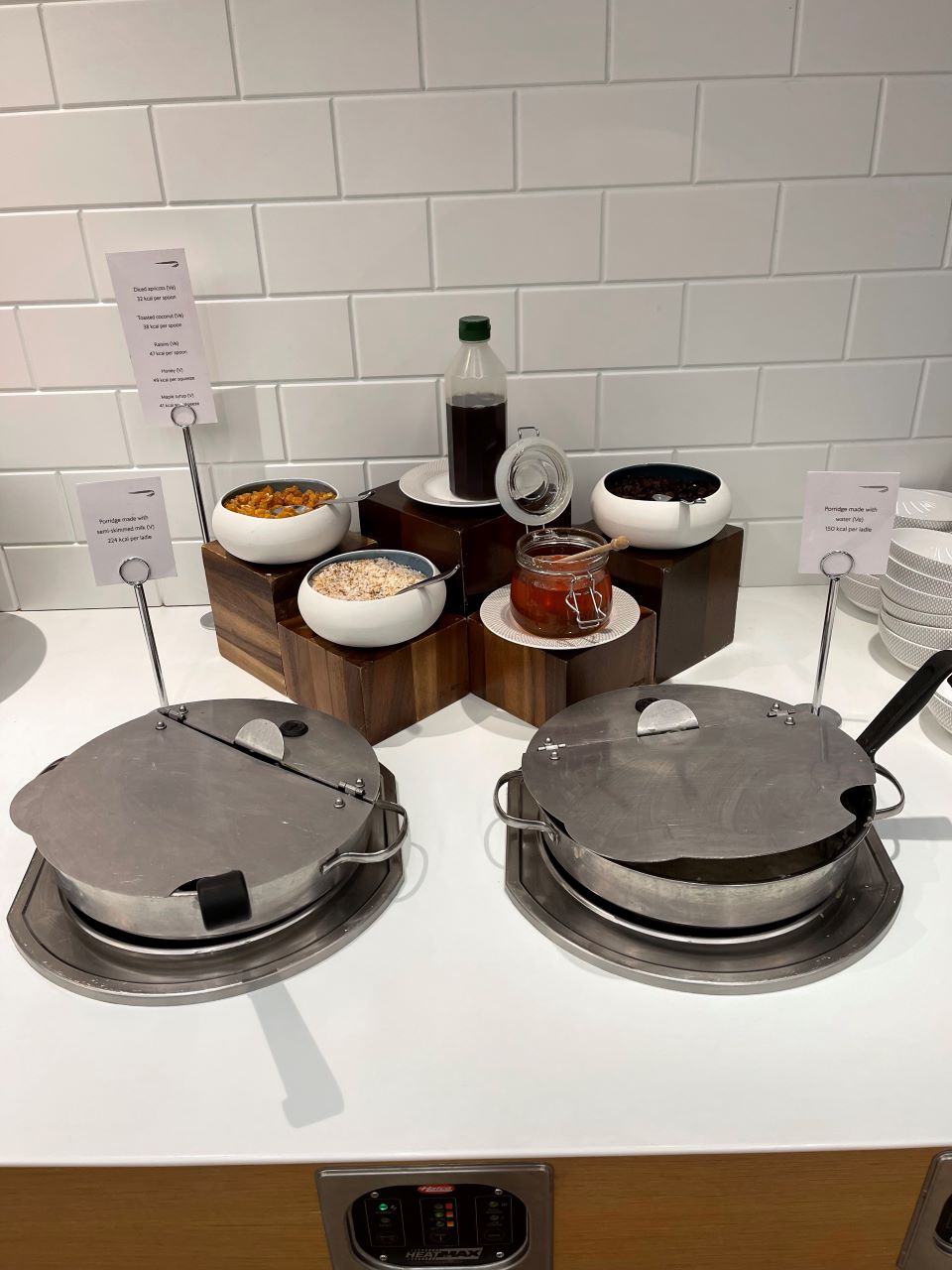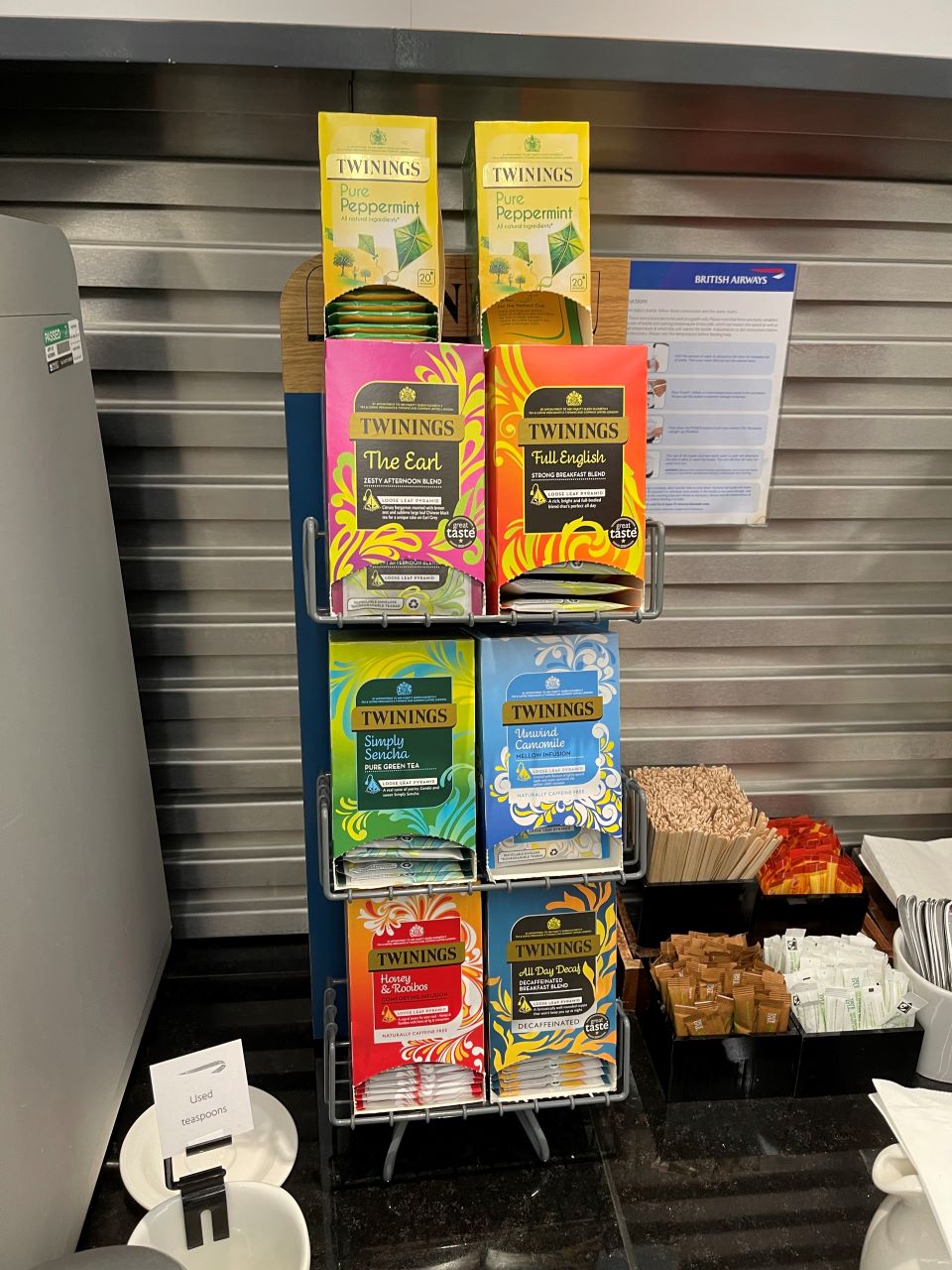 Hot options included chicken curry, a vegan stew, and pasta.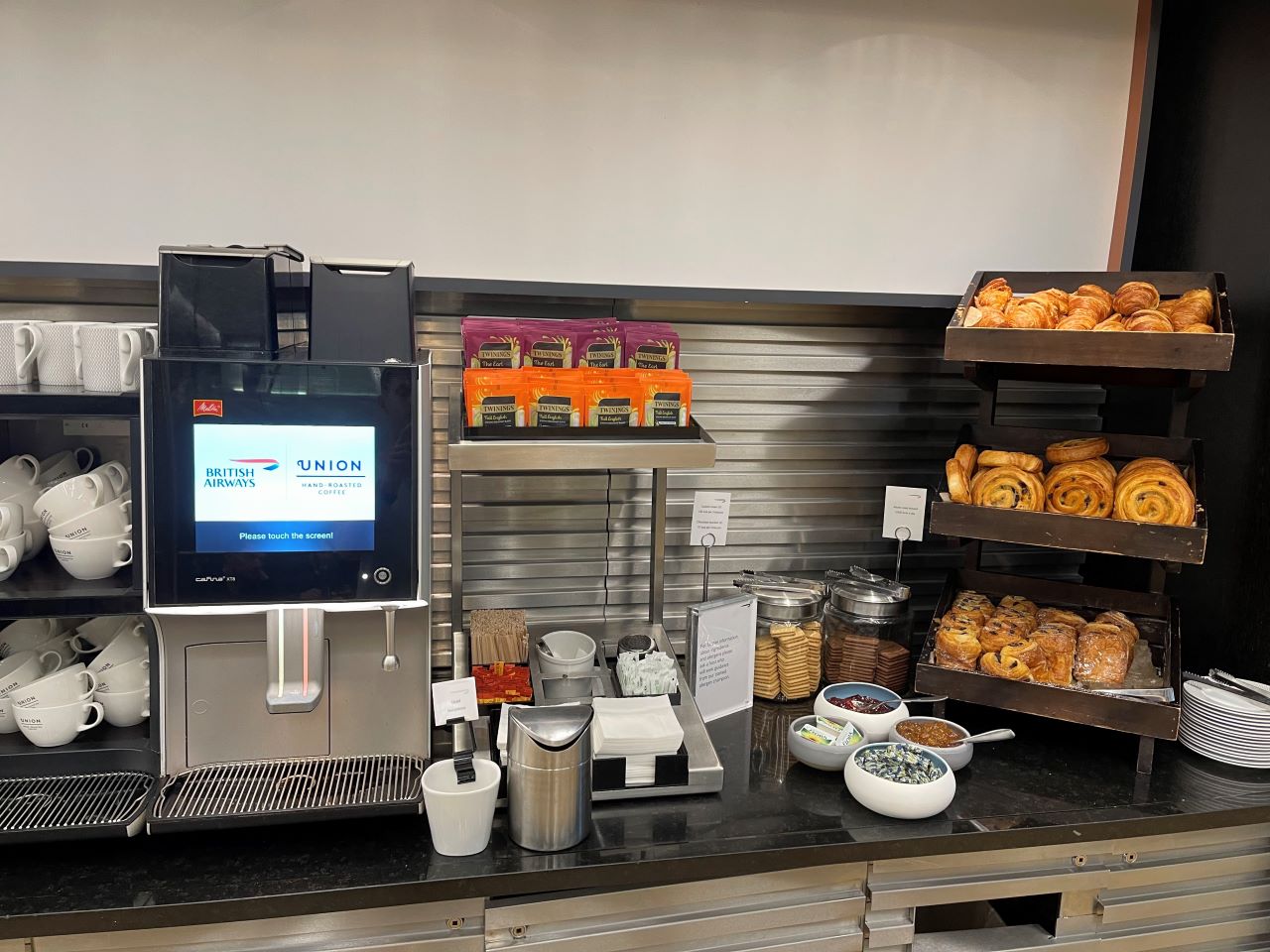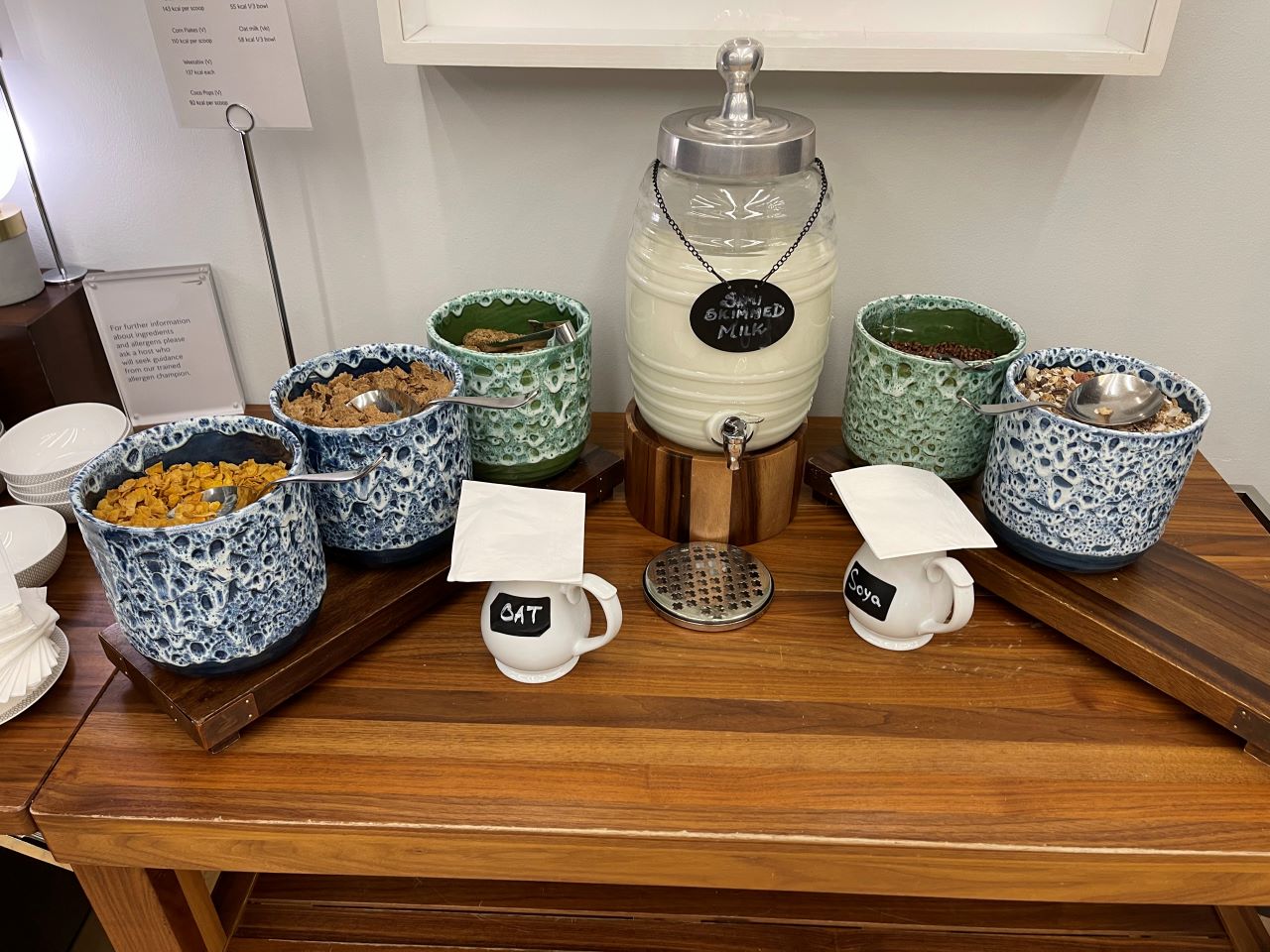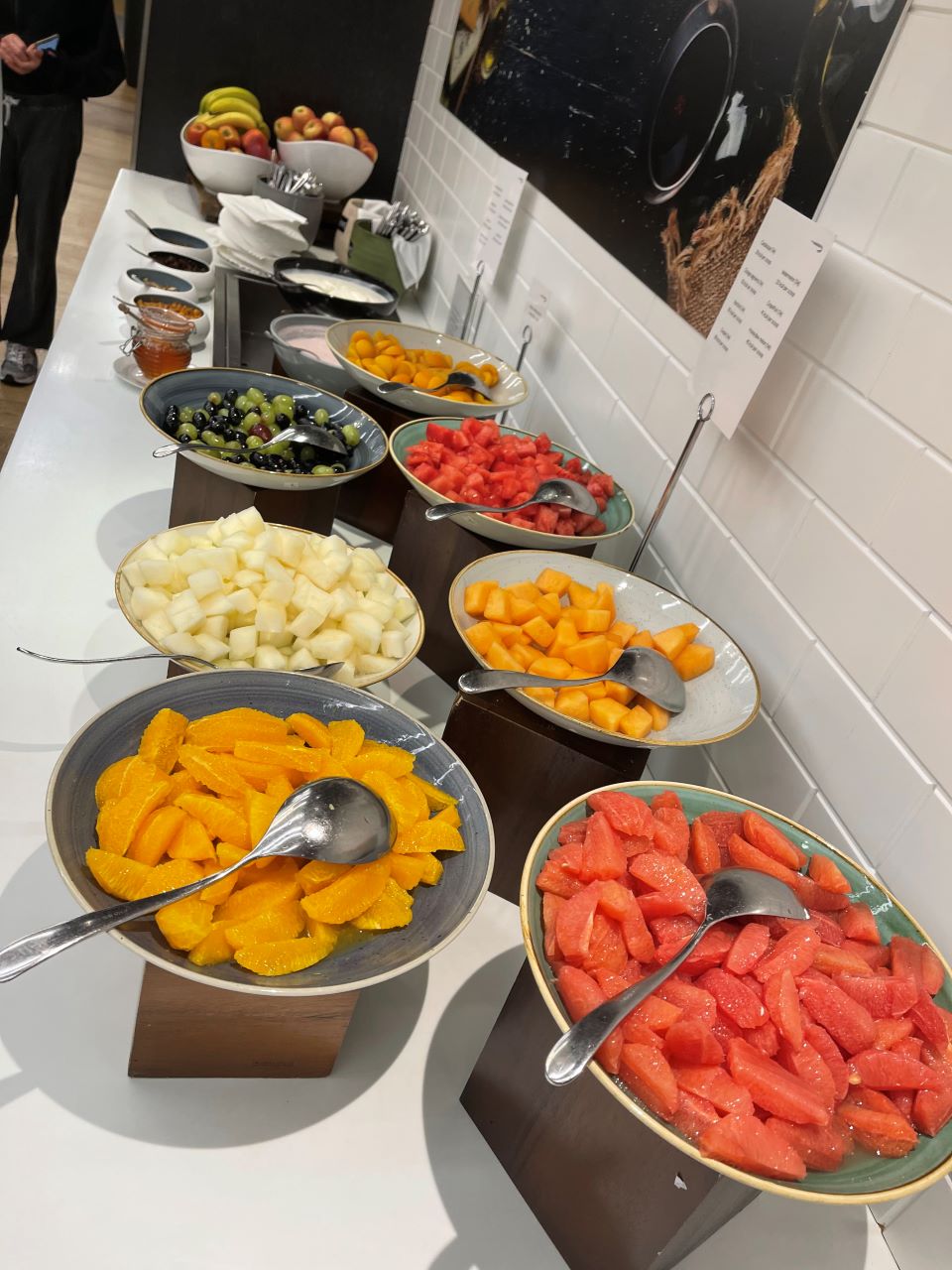 There was also a choice of two soups, a wide variety of salads, a selection of cheeses, sandwiches, fresh fruit, and crisps.
At 9:20 pm, I made my way to the departure gate, which was in the B satellite. As always, after stuffing myself in the lounge, I took the lifts down to the floor below the automated transit train level and waked the ten minutes from A to B gates which have become a little ritual. This walkway is literally the quietest part of T5 you will find, and I did not see another soul for the ten-minute walk, which was a great escape from the stress and bustle of a large airport.
The flight boarded from gate B38 bang on time at 9:40 pm, with groups 1 and 2 called forward first. Door 1 was used for boarding, and as I presented my boarding pass to the two friendly crew at the door, I was greeted with a 'welcome back Mr D'Suvio' and directed to my seat on the other side of the aircraft.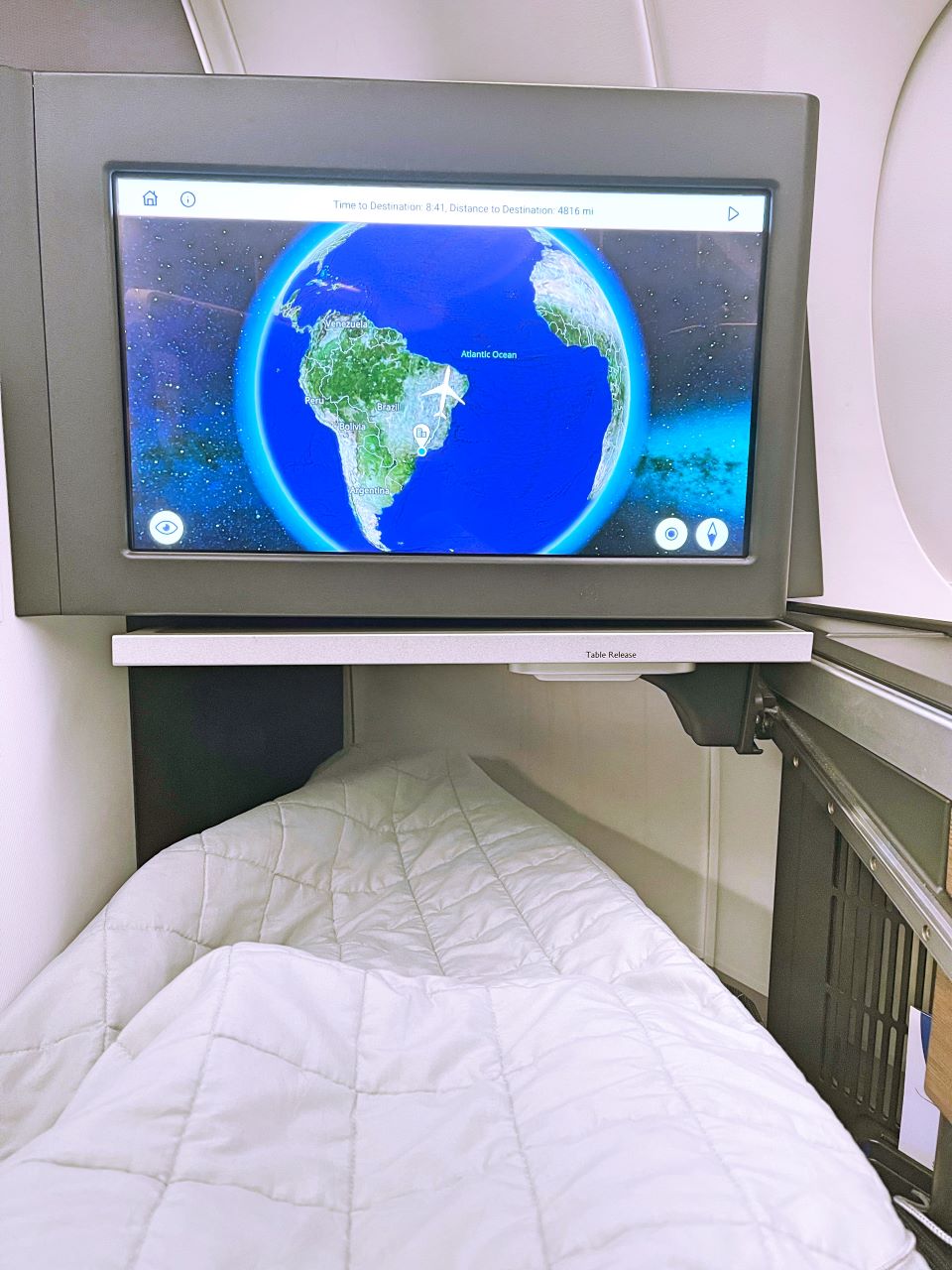 All BA's A350s are fitted with the new Club Suite, which I am a huge fan of. It ticks every box I look for in a seat – fully flat, direct aisle access, all seats are more or less equal, plenty of stowage, great privacy (with sliding door) and a good-sized foot space.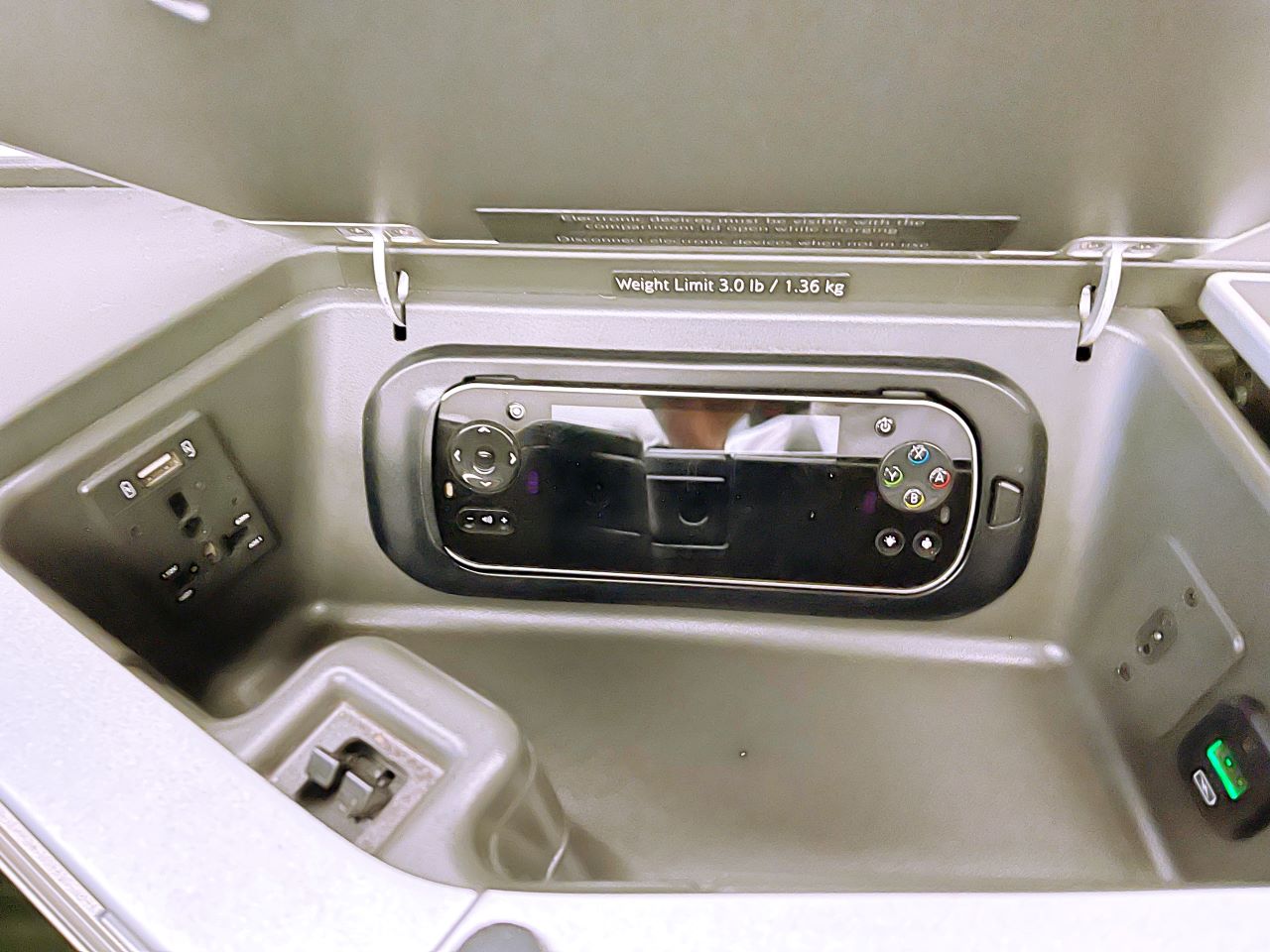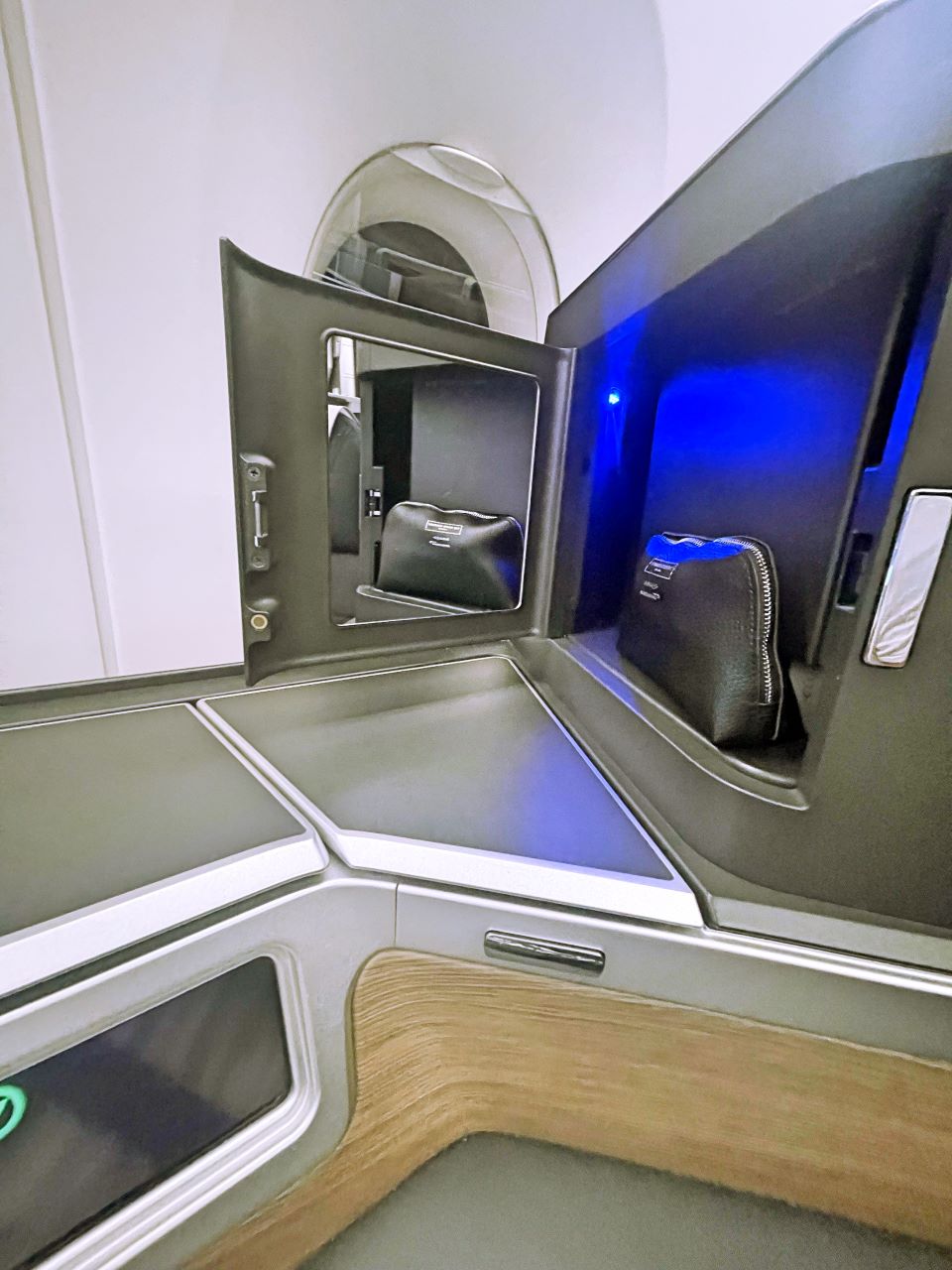 I won't go into too much about the seat features as I know there have already been several reviews on here. Club World occupies the entire forward cabin between doors one and two (11 rows), and then there is a small mini cabin of three rows aft of doors two and in front of Premium Economy, amounting to 56 suites in total.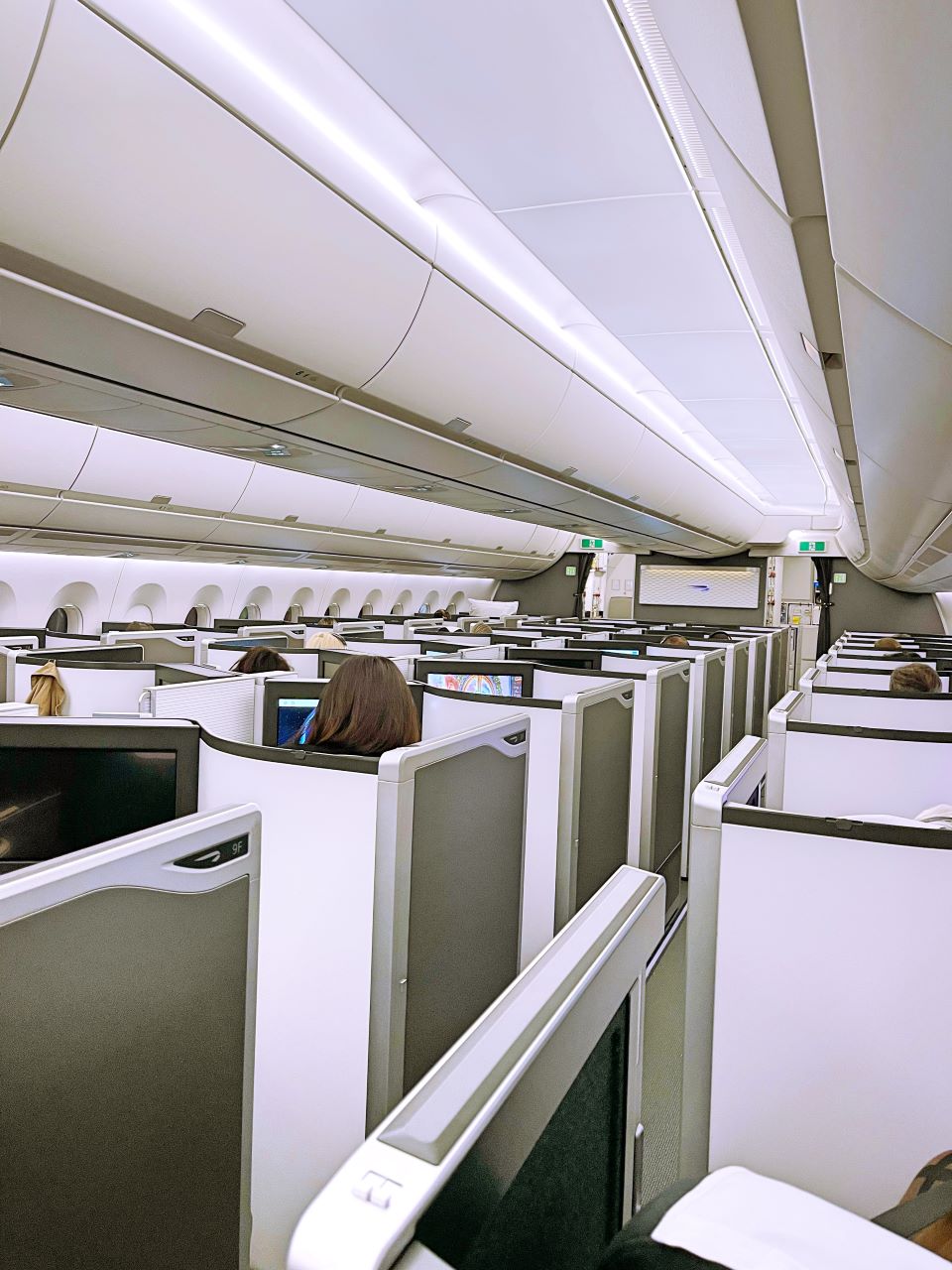 Club World was about three-quarters full with quite a lot of families with young children travelling, which immediately gave me flashbacks of my flight to Mexico City on Air France, where young children ran up and down the aisle and literally climbed over seats whilst their parents looked on unfazed. There was none of that on this evening's flight, thankfully.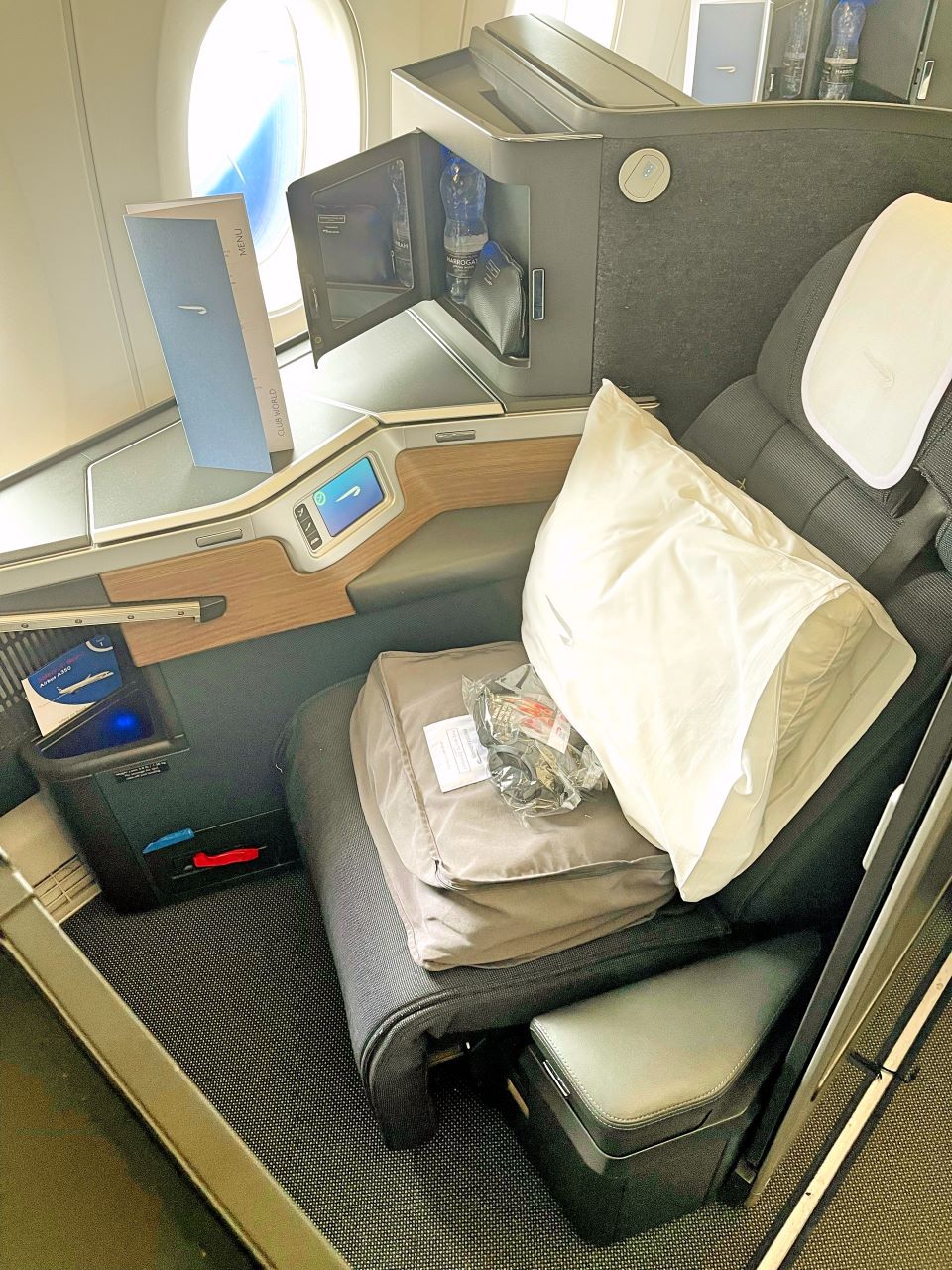 Already at the seat were the White Company bedding, washbag, headphones, and menu. The crew then came around offering glasses of champagne, juice, or water, as well as a small bottled of water. We were welcomed onboard via the PA by the Captain, and in my opinion, BA pilots are always the best at giving friendly and professional welcomes and practical information about the flight.
Meal orders were taken on the ground with a full three-course offering; however, I opted for the 'express' option of a starter and dessert with the aim of getting some sleep as soon as possible.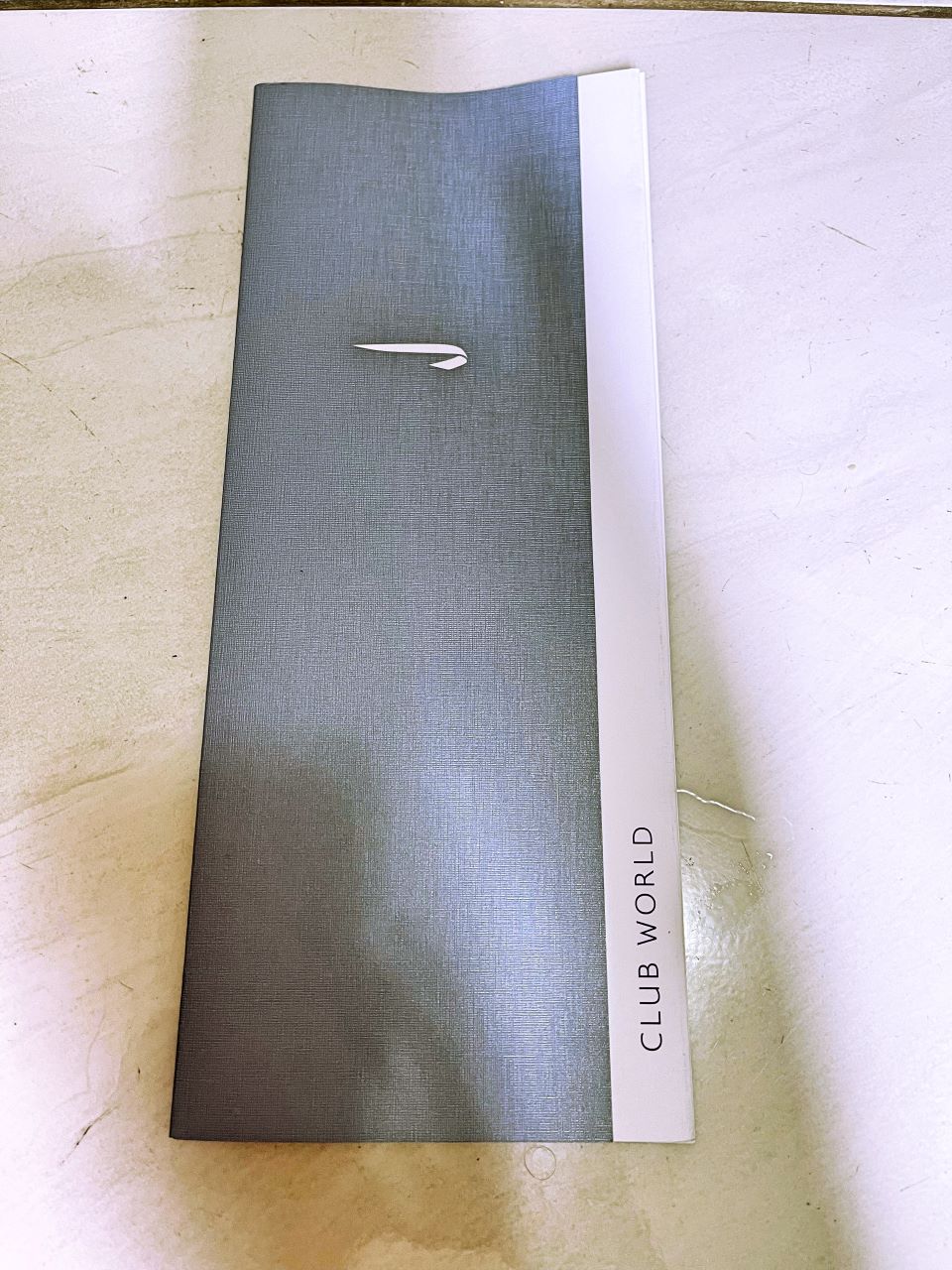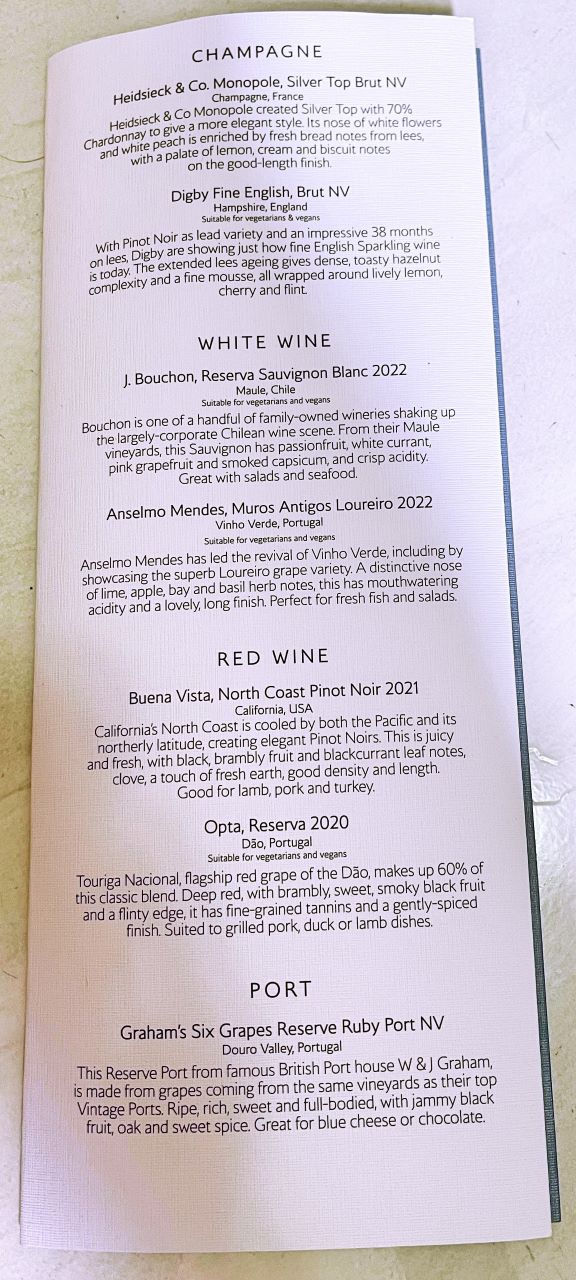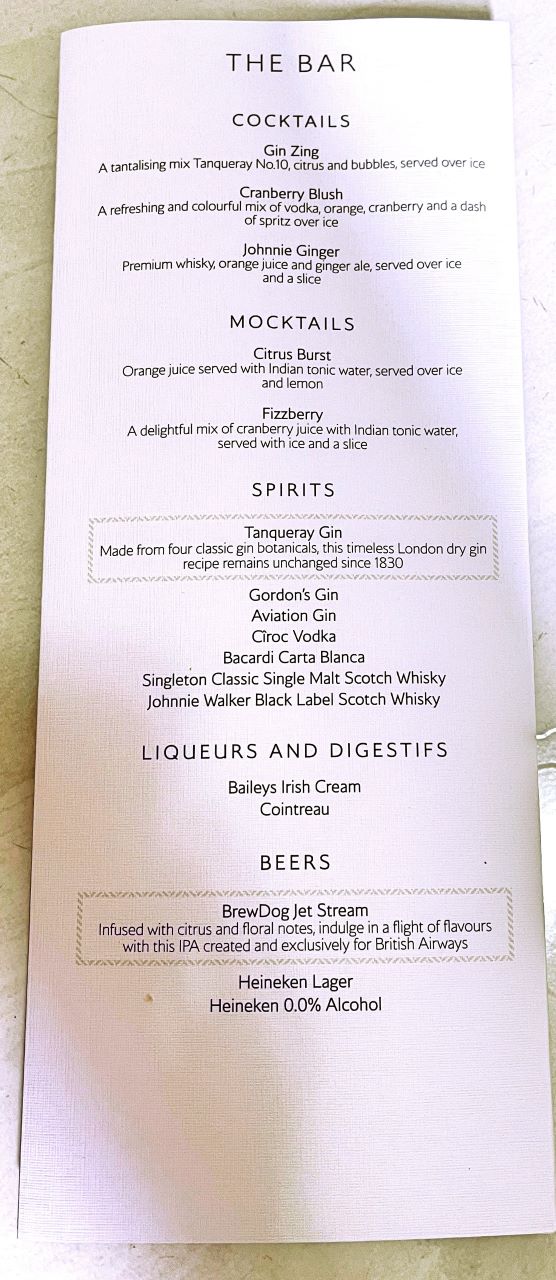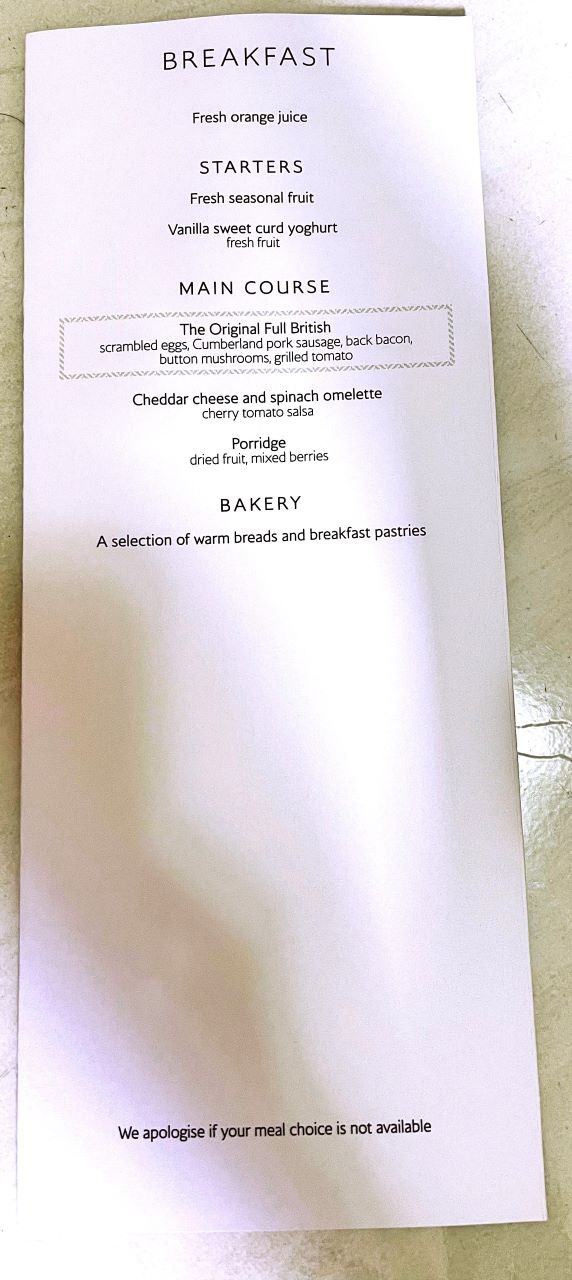 The crew were typical BA. A little bit of the British reserve at the beginning, but always professional. Boarding is a hectic time for the crew, and warm welcomes are not always the BA crew's forte. I get it completely; you are trying to navigate your way down a narrow aisle with a tray of drinks whilst three hundred other people with backpacks and wheelie bags are behind you, trying to overtake you, whacking you with their luggage as they go.
I sometimes find when I fly BA, the crew can appear a little serious or standoffish initially, and this was one of those flights. Whilst getting settled in, I had popped my water bottle into one of the many cubby holes of the suite and along came a crew member who reminded me of a schoolteacher when I was a kid 'That bottle can't stay there for take-off. It isn't approved'. And she was completely correct, but the delivery could have been better. 'Hi, welcome onboard. My name is xxx. I'll be one of the crew looking after you tonight. Just to let you know that stowage isn't approved for the water bottle, so if you wouldn't mind moving it'. Game, set, match. During the flight, she was a phenomenal crew member, one you would never find on Qatar or SQ. The way she showed genuine care for the elderly lady travelling alone behind me, chatting with her extensively during the flight and the way in which she interacted with the kids, literally tucking them into bed and mucking about a little, demonstrated everything that makes an amazing crew member. Genuine, caring, professional, and responsive. Every other crew member in Club was also friendly, efficient, and professional.
The flight:
We pushed back on time and were airborne fifteen minutes later. One thing I really appreciate about BA is how they have night flights down to fine art. Lights were kept low, and the service got started immediately.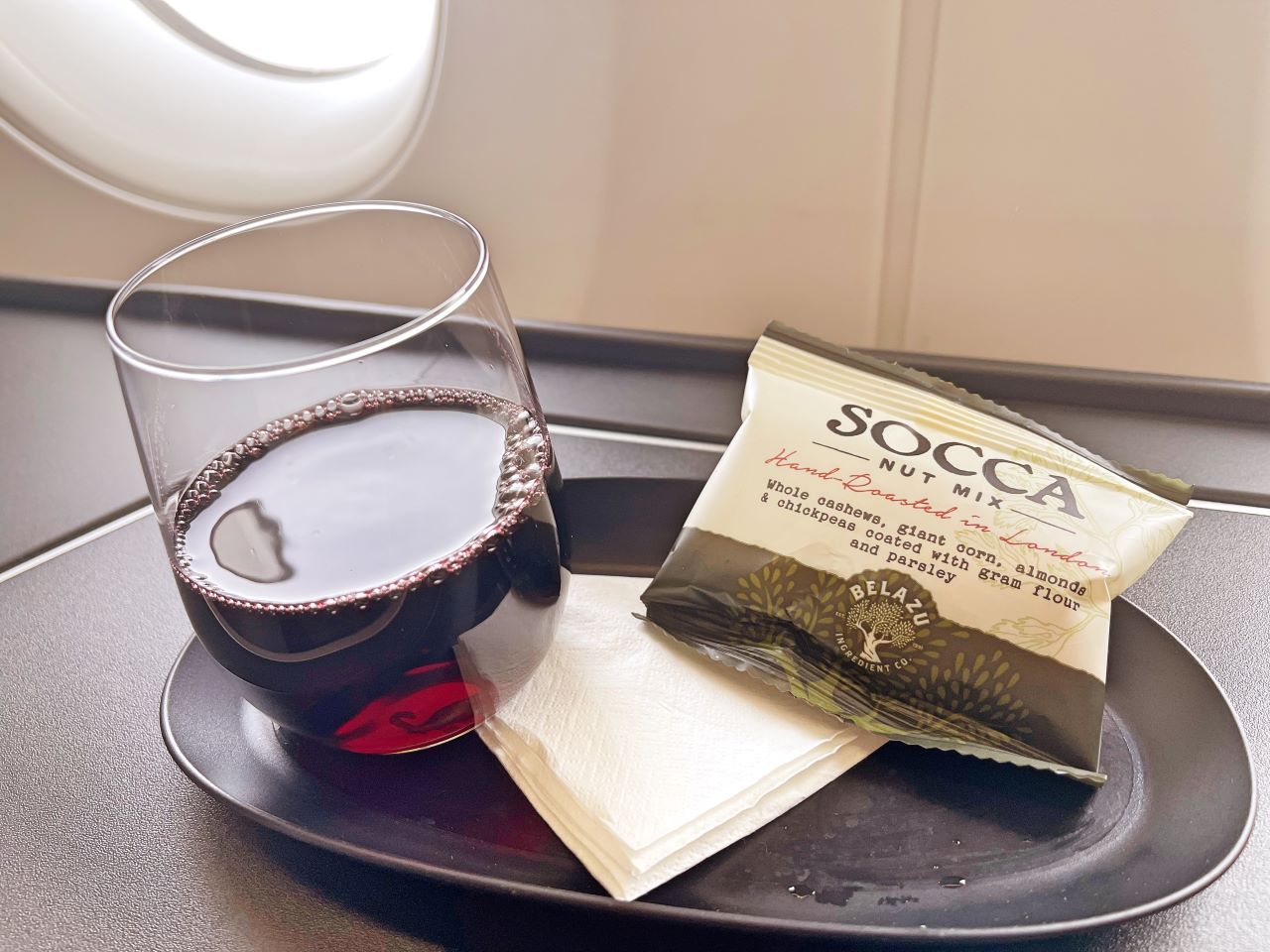 Hot towels were distributed, and I had my glass of red wine alongside some packaged snacks within five minutes of the seat belt sign being switched off. Trolleys are not used in the cabin. Instead, all meals are run from the galley (the aisles are so narrow I would doubt a trolley would safely fit down it) and within fifteen minutes of levelling out, I had my dinner in front of me. I elected the express option, where everything is served once on the same tray.
My meal consisted of a side salad, a starter of roast beef and a cheese plate. I have to say BA's catering has come on leaps and bounds since COVID, and I definitely think it is one of the better business class offerings out there these days, especially ex-LHR. I know it doesn't compare with the 'restaurant experience' of Qatar etc., but compared to meals I have had on KLM, Air France, Latam, TAP and United, this was easily the best in terms of quality, quantity, and presentation.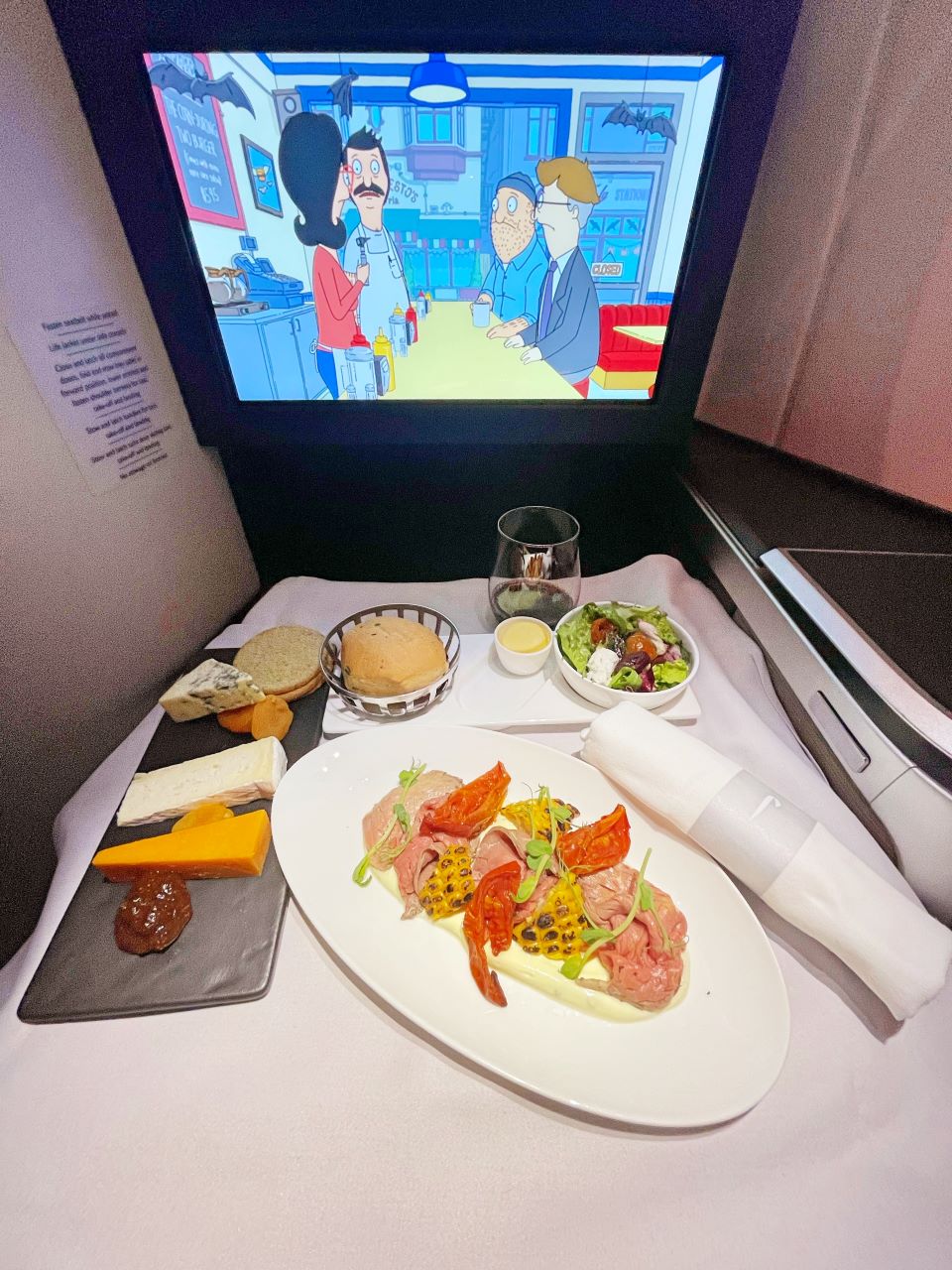 After my meal was cleared, I had a look at the IFE. I liked how it featured a lot of British content both in the audio and visual categories, including several more eclectic offerings. I settled on a couple of episodes of Bob's Burgers before making my bed for some shut-eye. I really like BA Club bedding; the pillows and duvets are great. What I wish they would improve on a bit is the mattress pad. It just resembles a giant nappy and seems a little ineffective in what it is supposed to achieve.
Wifi was also available with packages starting from £2.99 for messaging and working up from there with both browsing and streaming packages available. First Class customers get free wifi, although there is no first-class cabin on the A350.
The flight was quite bumpy, and I could overhear the young girl sitting across from me updating her mum on the goings on of the animated movie she was watching, so I slept a few hours and then got up and requested a coffee.
Around one hour and forty-five minutes, breakfast was offered. Again, this was hand run from the galley, and the crew just asked each customer what they wanted.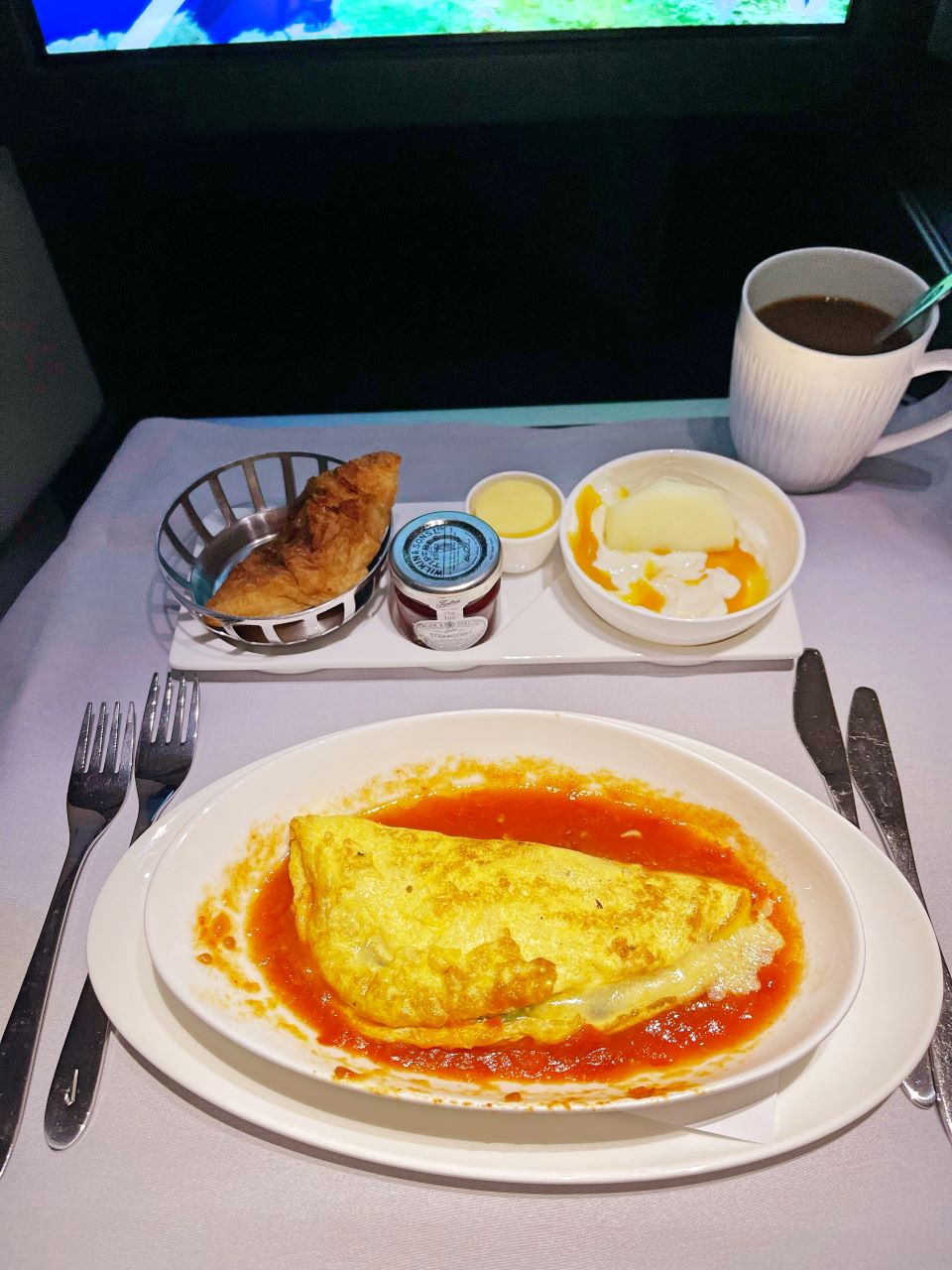 The starters are all the same (fresh fruit, a croissant and yoghurt with compote), and I asked for a coffee to go along with it. The croissant looked like it had been through the wars, but everything else was fresh and delicious. The crew then offered a choice of three hot options – mixed grill, omelette or pancakes and I went for the omelette, which certainly tasted better than it looked. Like dinner, breakfast was tasty, well-presented and delivered efficiently. Soon enough, the captain made the forty-minute landing PA and twenty minutes out. The cabin was secured for landing.
We landed in Sao Paulo and were parked at our gate at T3 exactly on time. History taught me that immigration would be very busy – in the 45 mins before the BA flight arrives, so does TAP, Swiss, ITA and Iberia, so there are easily one thousand plus customers arriving in that hour. The queues were long but moved quickly. There were signs up advising everyone to have their COVID Passport ready; however, this was not asked for by the immigration officer.
Verdict: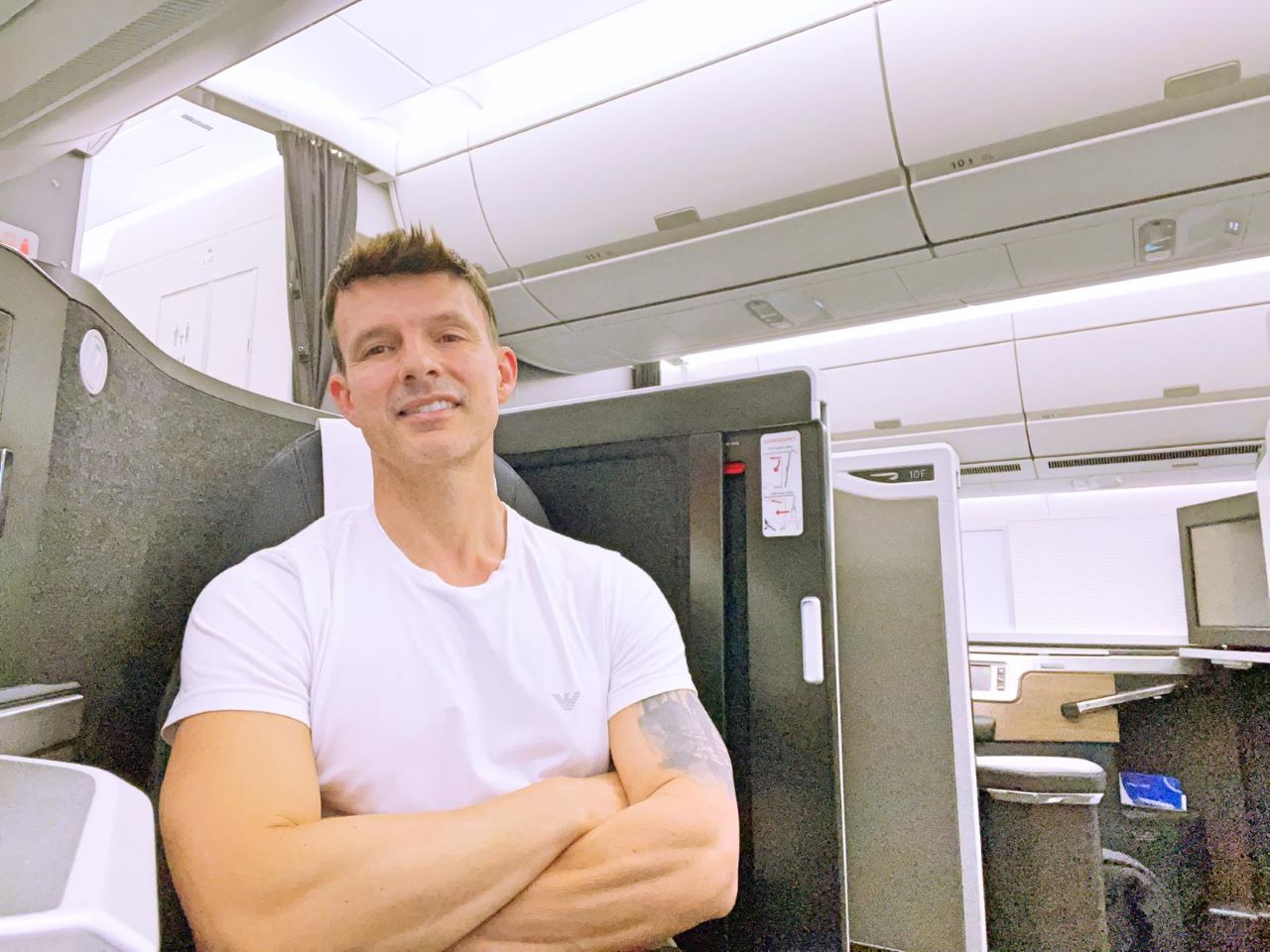 What I was expecting to be a stressful airport experience ended up being very pleasant, and this is one of those trips on BA where it truly felt like an 'up there' airline. The lounge was tranquil, punctuality was spot on, no boarding craziness, 11 hours cocooned in some of the best business class seats available, the crew were friendly and professional, the food was better than average, and the pace of service was exactly what you could want on a night flight.
You can read Part 2 here. In the meantime, if you love flight reviews, you can see the whole library of them here.